This Petite Paris Apartment is a Vintage Furniture–Filled Delight
An eccentric and eclectic Paris apartment reflects a lifetime of thoughtful collecting—and a considered eye.
There's more to design than just form and function. The objects chosen for a home require a special sense of purpose and personality—and, in some cases, a brief departure from restraint. "There's sort of a chemistry, a thing that happens sometimes when you see objects and you fall in love with them immediately," says lifelong Parisian Nicolas Roche, creative director at the legendary furniture brand—and his family's namesake company—Roche Bobois. "I am someone who loves objects."
Newsletter
Join the Daily Dose Mailing List
Get carefully curated content filled with inspiring homes from around the world, innovative new products, and the best in modern design
Roche originally studied architecture, in France, with no intention of joining his family's business, which opened its first store in the U.S. in the mid '70s. "When I was a child, I could tell that Roche Bobois was something famous," he says. "I could see the way people would speak of the brand. I would feel rather proud to be part of this, even if I didn't want to work there. But afterward it became a bit difficult because people would always compare me to Roche Bobois. It became a bit heavy to bear." His father and uncle ran the company, but when they began to plan their retirements, Roche stopped practicing architecture and joined the family business. "My aim was to keep the brand's DNA of creativity and elegance," he explains. "But I really wanted to get rid of some headaches, some designers that I felt weren't relevant anymore. I really wanted to bring in new ways of working and new designers. Younger blood, I would say." In the past decade, Roche Bobois has undergone a revival, thanks to collaborations with fashion designers such as Jean Paul Gaultier and pared-down products by the likes of Cédric Ragot and Christophe Delcourt. Despite Roche Bobois's reputation for expressive and sometimes challenging pieces, Roche views the company as more of an old-fashioned atelier. "They're never really industrial products," he says, "because of the big importance placed on how they're finished and made by hand. I think people today are becoming more interested in real things with real materials."
Just as he does with the family business he oversees, Roche fills his 900-square-foot home, in the 19th arrondissement of Paris, with warmth and personality, opting for vintage pieces, including a few Roche Bobois prototypes that never made it to production.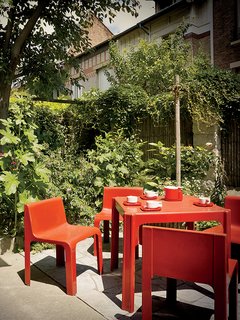 Roche purchased the three-story structure in 2000. Originally a single-family home, the building had been split into two units; he lives on the top floors, plus the converted attic, and a tenant lives downstairs. The house is located near Buttes-Chaumont, a 19th-century park with an artificial lake. The adjacent neighborhood, where Roche lives, has a distinctive architecture style from the early 20th century.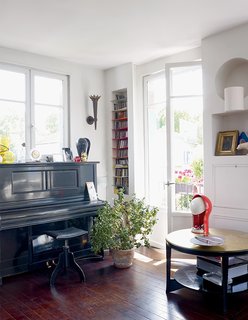 In order to convert the upper floors to suit his lifestyle, Roche removed as many wall partitions as possible—each room originally had a single window, he recalls—to create an open plan for his unit. "I'm single, so I didn't want to keep all those partitions. I just wanted to have a big, open space," he says.
"The only remaining doors are the one for the bathroom and a glass one for my bedroom, upstairs." The windows on three sides of the main floor now flood the space with light. "I can position myself in any corner of the apartment, and I have a variety of views," he says. "The very cool thing about this flat is that it's surrounded by little gardens. It's rather unusual to have such a panorama in Paris. The main facade is on the south. The light always changes, and this is why I bought this place, because it's so well oriented."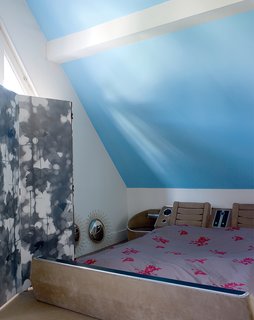 One renovation challenge was creating a coat closet that wouldn't obstruct light to the kitchen. "I didn't want something angular," Roche says, "because I knew that I would constantly walk around it. I didn't want to see edges." Instead, he used approximately 120 red bungee cords to create a semipermeable space that not only stores coats and shoes, but photos and postcards, as well, tucked into the cords for display. "Originally, I wanted to do something in red Plexiglas, but it got very complicated," he says. "So I just simplified the idea."
One trick Roche employs is a bold use of color. The red of the coat-storage cords matches the walls of the adjacent dining area, where a vintage steel 1960s Warren Platner table and chairs and an antique Italian cabinet in rosewood are housed. In the kitchen and bathroom, he used colorful mosaic tiles to create simplistic designs—numbers, animals, biblical scenes—inspired by children's books. Another strategy Roche uses is color blocking on ceilings, such as a light pink over part of the living room, to help define space. One recurring hue is a pastel blue, used on part of the building's exterior as well as on the bedroom ceiling. "Half of the attic's ceiling is painted blue, and the other side is a light beige," he says. His bed is one of his favorite discoveries, a suede-covered French piece, designer unknown. "I found it in a Brussels flea market. It's sort of a James Bond bed—with an ashtray, little boxes to store things, a radio, and lights," he says joyfully. "It's really extraordinary."