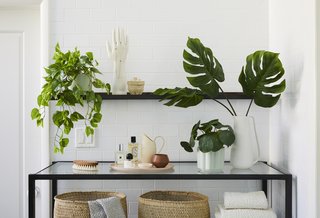 Don't Have a Green Thumb? The Sill's New Line of Hyper-Realistic Faux Plants Is Just for You
No watering necessary: This fresh collection of fake-but-believable plants makes it a breeze to turn your home into an indoor jungle.
Plants make people happy. But for those who haven't mastered the art of indoor gardening, suffer from a lack of natural light, or spend more quality time at the airport than at home, tending to plant buddies may bring more heartbreak than happiness.
Enter The Sill, the direct-to-consumer brand on a mission to bring beautiful plants straight to your doorstep. While their live plants have been a hit across the internet and across the country, today they've launched a new line of faux plants that ensure anyone can have the indoor jungle of their dreams.
"It was an incredibly thoughtful decision to launch our line of faux plants," says Eliza Blank, founder and CEO of The Sill. "We have customers who simply have restrictions—be it low light, busy schedules, or pets at home. They often have real plants, too. But sometimes you really just want that Fiddle Leaf Fig tree without the headache." While some of the larger plants are only available for delivery within the New York City area, there are plenty of other faux foliage options for the rest of us—take a peek at our picks below.
Get the Dwell Newsletter
Be the first to see our latest home tours, design news, and more.