The Possibilities Are Endless With This New Cutting-Edge Cooktop
Recommended by
Every time Miele comes out with a line of innovative appliances, we wait in eager anticipation to see what the new and improved capabilities will be. For their most recent launch, they've introduced a high-tech line of Induction Cooktops with special technologies including PowerFlex and Con@ctivity 2.0. The collection takes cooking to a whole new level with outstanding capabilities focusing on safety, efficiency, power, and precision.
According to Miele, they've recently tracked a growing interest in induction cooktops, which comes as no surprise considering they heat up twice as fast as gas stoves while conserving a large amount of energy. The principle of the technology is simple—the power of induction generates a magnetic field that turns your cookware into a heating element, resulting in an exceedingly safe and precise way to cook.
In order to fit within all types of kitchen configurations, Miele's induction cooktops are available in 24", 30", 36", and 42" models, with the option of including a sleek flush-mounted installation or a stainless steel frame. They also offer a 30" M Touch induction range along with an induction CombiSet, providing solutions for the needs of any cook.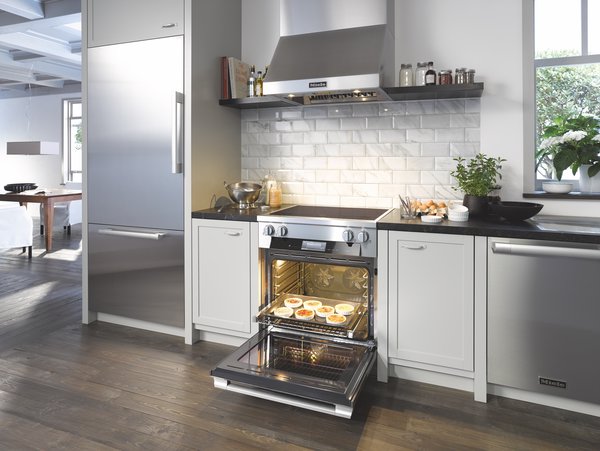 Scroll through these images to see how the line's seamless design could fit into the kitchen of your dreams, with a guarantee that you'll be cooking with full control in no time.
Promoted
Miele
@miele
Miele is a German manufacturer of high quality domestic appliances and machines for commercial applications. The company was founded in 1899 by Carl Miele and Reinhard Zinkann and has always been a family-owned, family-run company. Miele aims to manufacture the highest-quality domestic appliances and commercial equipment in the world and to be seen by markets worldwide as providing an absolutely top-class household product. Miele produces domestic appliances including vacuum cleaners, refrigerators, dishwashers, ovens, cooktops, coffee makers, and more.
Comments
Everybody loves feedback. Be the first to add a comment.
The author will be notified whenever new comments are added.