View Photos
Before & After: This Portland Loft's Pink-Hued Makeover Deserves a Standing Ovation
An artsy retiree's new downtown digs combine industrial details with plush textures, serene colors, and statement-making fixtures.
After almost 10 years in a 1,075-square-foot, one-bedroom, one-bath loft in Portland's downtown Pearl District, Pam Williams was ready for a change. Williams, a retired public library director and widow who volunteers at the Portland Art Museum and Portland Center Stage at The Armory, contemplated purchasing a new home—however, after a visit to a remodeled unit in her own building, she realized that a renovation might be the better solution, allowing her to stay in the neighborhood she loved.
Williams contacted Jessica Helgerson Interior Design (JHID), the Portland–based design firm responsible for her neighbor's stylish revamp, and it turned out to be a match made in heaven. Other than some "guiding directives" from Williams, she let the firm have free reign. "She described the kind of home she'd like to live in along with a thoughtful note about her experience working with professionals and learning that the creative process really shines with trust," explains senior designer Mira Eng-Goetz. "We were really moved by this simple gesture." Williams even gave away almost all of her furniture, letting the firm start from scratch.
Before: The Entry
Get the Renovations Newsletter
Get carefully curated content filled with inspiring homes from around the world, innovative new products, and the best in modern design.
After: The Entry
Helgerson's team also focused on giving the home a clean, modern look. "It really came down to a few strategic shifts: moving the kitchen sink from an interior wall to a window—who doesn't love having a view while they're doing the dishes?—and lowering a lofted area so that it could become the study. Now, the space feels much more connected to the rest of the apartment," says Eng-Goetz.
Working with a highly curated and restrained material palette of warm, muted colors like off-white, light gray, and pale pinks, the team used only one color throughout the residence: Benjamin Moore's Balboa Mist. "From the custom concrete sinks to the quilted linen on the cozy room sofa, everything is soft, warm, and neutral," says Eng-Goetz.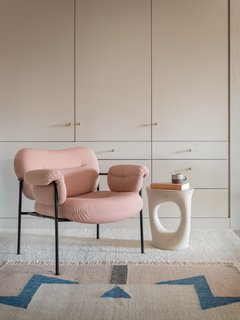 To help Williams keep things looking clean and minimalist, plenty of hidden storage was incorporated. The designers also added custom, built-in furniture, such as a sectional sofa with large storage drawers underneath. JHID chose to celebrate the unit's existing structural elements—its rough-sawn wood ceiling, its brick walls—and uncovered concrete flooring that had been previously hidden by floating bamboo flooring.

Before: The Living Room
After: The Living Room
The result is a calm environment with a youthful, contemporary vibe—"a welcoming cocoon for her to live in," according to Jessica Helgerson. "We designed an environment that aims to be both serene and energizing—a place where our client can host lively book club get-togethers or sink into the cozy indulgence of watching a movie on her own," adds Eng-Goetz.
Before: The Kitchen
After: The Kitchen
After: The Bedroom
Before: The Bathroom
After: The Bathroom