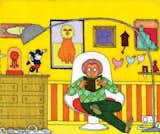 The Living Zone
Let's talk design for a minute. It's important to remember that potential modifications to your home must be carefully considered before you implement them. If you blindly follow the prescriptions of a well-meaning energy wonk without understanding the experiential implications of his suggestions, you could wind up with a perfectly energy-efficient house that's perfectly uninspiring. Know this: Sustainable design doesn't have to suck.1
Light right.
For starters, replace nearly all2 of your incandescent bulbs with compact fluorescent lightbulbs (CFLs).
Join Dwell+ to Continue
Subscribe to Dwell+ to get everything you already love about Dwell, plus exclusive home tours, video features, how-to guides, access to the Dwell archive, and more. You can cancel at any time.