Before & After: A DIY Couple Tackle Their 1915 Craftsman in San Diego
Since 2015, when Ashley and Ross Goldman bought a Craftsman-style bungalow in their hometown of San Diego, California, they've worked diligently to turn it into a warm, stylish, modern home—which Ashley chronicles on her blog, The Gold Hive.
At the top of the Goldmans' house hunting wish list was a building with some old-world charm, so they were immediately captivated by this classic, Craftsman-style bungalow built in 1915.
Newsletter
Join the Daily Dose Mailing List
Get carefully curated content filled with inspiring homes from around the world, innovative new products, and the best in modern design
"The built-ins, plate rails, room dividers, picture rails, leaded glass cabinets, fireplace, big windows, beefy trim, hardwood floors, and classic facade give the house so much character," says Ashley Goldman. "Since we bought it, our goal has been to restore it to its former glory, and refresh it, while adding modern amenities and our own personal style." Simple, modern furnishings don't take attention away from the original details of the home.
"Since moving in, we've focused on making the house more of a home by adding our own personal style through a redesign, which I started sharing on my blog, The Gold Hive, in April 2017," says Goldman.
Their home office, which is located at the front of the house, received the most dramatic makeover. The space was reconfigured so the couple can work together from home.
The phase one kitchen upgrades cost the Goldmans less than $1,000, whereas the table in the home office cost them nearly double this price.
"When we focused on big renovation projects where we had to hire folks to do the work, such as installing HVAC or upgrading electrical, figures averaged around $5,000 to $10,000," says Goldman.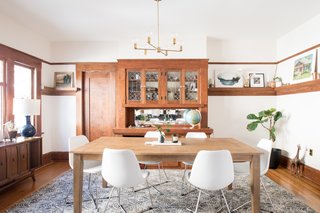 "For the interior decor, I tried to keep costs down for most of our furniture by shopping at popular budget and mid-priced stores, but we did splurge on a few items such as the office table," she adds.

"Unlike the movie The Money Pit or stories of renovations gone bad, we've been really lucky with our remodel, and haven't encountered any major problems," says Goldman. "The biggest challenge was choosing materials and furniture items that were affordable, but also long-lasting. I've been dragging my feet on the kitchen remodel and bathroom addition project, because I've been afraid to commit to such a permanent change. It's hard to anticipate how we will use the space as our lifestyle changes, and we still want to maintain the integrity of the house, so it's a fine balancing act."
All furnishings, decor retailers, and prices can be found on the Shop The House page of Goldman's blog.