The Conversation Pit Makes a Much-Appreciated Comeback at an Ultramodern Home in Cupertino
A glass house floats at the edge of Silicon Valley.
When Pam and Paul Costa moved from Milwaukee to Silicon Valley—via their employment at Apple—they dreamed of building their own home, just like some of their friends and relatives had done back in the Midwest. But they discovered that this rite of passage wasn't as easily accomplished here as it was in Wisconsin. Even worse than the obvious sticker shock was the fact that most of the buildable land had been spoken for.
Newsletter
Join the Daily Dose Mailing List
Get carefully curated content filled with inspiring homes from around the world, innovative new products, and the best in modern design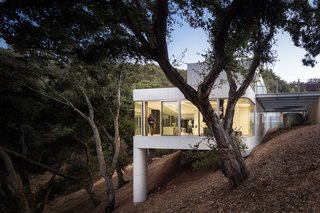 Which brought them to a steep property thick with trees and ravines in the meandering hills above Cupertino—a site that had been deemed unbuildable for generations—and to a gutsy architect named Craig Steely, who had a reputation for pulling off the seemingly impossible.

"It wasn't a hundred percent clear that it could be built on, but it was just so pretty," recalls Pam, who now works as a therapist, of the lot. It lacked utilities and even sewer lines when the couple bought it.

"It was a huge gamble to do this," says the architect, who has completed daring work on hillsides, on cliffsides, on lava fields, in tight urban lots, and in other challenging places. "If it hadn't worked, they would have been stuck with a really great place to camp."

But, he adds, "The best projects I've done are on lots that are really complicated. They have so much reward. It allows you to think of something complicated and intricate."
When the Costas brought Steely to the site, it became clear to all parties that the home should float in space among the trees, not bury itself into the land or require clearing any of its natural majesty for the typical building pad. "We just wanted to be in the forest," says Pam.
The rectangular, zinc-and-aluminum-clad structure hovers above the natural topography, stepping down the slope, anchored by two steel columns rammed deep into the earth.
Inside, the goal was also to highlight the bucolic surroundings, and this was accomplished by opening up the single-story living space with floor-to-ceiling glass windows and sliders and creating as few internal walls as possible. The space was further unified by a single concrete slab floor and exposed black steel columns.

"A lot of people say they would like to be a minimalist, but they don't reflect that." Paul Costa, resident
"If you could build a glass house in the trees, all of a sudden it functions," Steely says. "You don't have heat gain. You don't have privacy issues."
To organize this open plan, the architect resorted to two techniques. First, he installed the bedrooms and the cabinetry containing storage and mechanical systems against the hillside. Then, to informally separate spaces, he sunk the office, the kitchen, and a large, pillowy conversation pit below the main floor level. He further reinforced these separations by installing glowing bands of LEDs in the ceiling above, creating an effect reminiscent of a Dan Flavin artwork or the movie Tron.
This Tron reference, by the way, wasn't a coincidence. The Costas are huge film fans, and the home is full of allusions to their favorites. The garage—along with a small roof garden, deck, and curved-glass peekaboo home entrance atop the living space—has a glass rear wall and a cube-like massing that's a dead ringer for the Ben Rose garage in Ferris Bueller's Day Off. And a rectangular slab of quartz in the master suite harkens back to the monolith in 2001: A Space Odyssey.

"If it hadn't worked, they would have been stuck with a really great place to camp." Craig Steely, architect
Another overarching goal was that the house waste as little space as possible. Taking into account all the clients' needs, the design started at 4,400 square feet but ended at 2,500. Many volumes perform double duty, and none sit empty for long. The guest room doubles as a playroom thanks to a Murphy bed and sliding walls; the guest bathroom is both a shower and a tub; the kitchen and dining room are one and the same.
"The goal was that every space get used every day," says Paul. "The house forces us to live the way we desire to live. I feel like a lot of people say they would like to be a minimalist or they love nature. But they don't always reflect that. This house is not just encouraging you to do those things. It's basically forcing you."

Another example of this willed predicament: There's no space to hang art. "You're going to be looking at the tree canopy whether you want to or not," notes Paul. "That sounds oppressive, but it's really incredibly relaxing and freeing once you get used to it and release into it."
To break up all this minimalism and glass, Steely dotted the sunken spaces with warm and colorful accents, such as the purple of the conversation pit and the pistachio wood of the office. He also incorporated some daring sculptural touches, like the pointed steel stair plunging from the garage to the office and curved glass instead of corners on all elevations.
"Other people light up when they enter the space." Pam Costa, resident
"There's something really feminine and subtle about the curves and how they connect," Steely says. "It's a less aggressive approach to making a de-materialized corner." The big, arcing curves create unexpected transparencies, increasing the sensation of floating and, yes, making the house seem to go away. Not to mention evoking the spatially warped work of artist Dan Graham.
So while the home is utterly simple, it's full of surprises. But the best part is quite predictable: harmony with nature and a feeling of zen. "I'll walk through and see a perfect view," says Pam. "And I see other people light up when they enter the space.

"To have this sense of being outside when you're actually inside, to be in nature and feel so connected to it—the leaves from the trees can just blow inside."