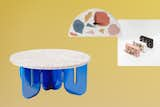 11 Trendy Home Accessories for the Terrazzo Aficionado
The speckled finish is having a major moment—here's how to bring it into your home.
Terrazzo—a versatile, composite material typically composed of marble chips mixed with a binding agent—is suddenly everywhere. The material was a staple in U.S. homes in the 1970s, and it's seen a dramatic resurgence in recent years, popping up everywhere from hip restaurants to bathroom makeovers—although its use dates back to the Italian Renaissance.
Terrazzo was first commonly utilized by 15th-century Venetian workers looking for ways to use discarded marble remnants. Craftsmen would embed the chips in a layer of clay and then seal the surface with goat's milk. Today, terrazzo can be made from a wide range of materials—including glass, granite, porcelain, and concrete.

With its colorful texture and retro aesthetic, terrazzo has made a major comeback—but if you're not ready to commit to a permanent installation (such as flooring or a countertop), here are a few simple ways to bring the look home.
Get the Shop Newsletter
Smart shopping for the design obsessed. Find what you love in our expertly curated selection of finely crafted home, office, travel, and lifestyle products.