View Photos
A Shih Tzu and a Maltese's Mountaintop Abode in Southern California
Interior designer Tamara Honey invites Laylo, a Brooklyn–based dog bed company, into her Pasadena home to see how she incorporates dog-centered design.
It's a dog's world—at least, it seems that way for seven-year-old Pickles and four-and-a-half-year-old Tortilla. The Shih Tzu and Maltese, respectively, live with their mom, interior designer Tamara Honey, in the family's mountaintop retreat in Pasadena, California. In an interview with Laylo, a Brooklyn–based company selling modern dog beds with swappable covers, Honey explains how her pups contribute to life at home, what she looks for in pet products, and her tips for maintenance if you have four-legged friends.
Newsletter
Join the Daily Dose Newsletter
Get carefully curated content filled with inspiring homes from around the world, innovative new products, and the best in modern design
How would you describe Tortilla and Pickle's personalities?
Pickles is an emotionally attached old woman who comes everywhere with me. While we initially got her to be the "family dog," it was clear that she wasn't built to handle that kind of attention. Instead she has become my fur baby.
Tortilla is a bit shy and indifferent. When we first got her she was a little anxious, but over the years she has slowly come out of her shell.
Shop Laylo Pet Beds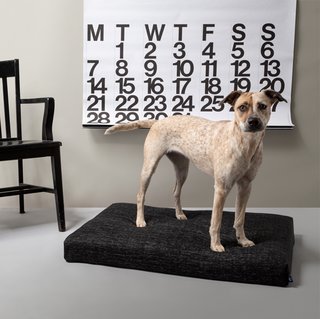 How was the first time you brought your dogs home?
It all started because our studio in South Pasadena was unfortunately in close proximity to a local pet store (before they were banned). Over the years, I almost adopted 20 dogs because I felt so bad that they were subject to those conditions. During my lunch break, I would wander over to say hi to the animals, which eventually led to us adopting Pickles and Tortilla.
I'm not sure what it is about dogs, but I have an emotional and visceral reaction to them that is contagious. With an open-dog policy in the office, we're quickly becoming outnumbered by our four-legged family members. I don't mind, though. They're family.
What sort of energy do Tortilla and Pickles bring to your home?
Tortilla and Pickles bring so much life to our home. We entertain a lot with friends (who also have dogs). When we hang out, everyone comes, including their pets!
As the kids got older, the dogs have definitely become a focus of ours. Even though they aren't very energetic, they still try to do everything with us.

Where are your dogs' favorite places to sleep and hang out in your home?
We are guilty for letting the dogs sleep in our beds. From a very young age, Pickles slept with us. Tortilla is a bit more fickle. She'll start on the bed but then ends up on the floor right below our feet.
How would you describe your style?
My style is definitely eclectic. I like to create spaces that are a mix of old and new, vintage but contemporary. Like my personality, I design rooms that don't take themselves too seriously with furnishings that are whimsical and playful.
"Despite pets being viewed as extended family, unfortunately there is a second-tier design standard for them. I love that I finally found a bed that fits so well in our eclectic home."
How would you describe your home?
Our home is located in a very special part of the Verdugo mountains. We fell in love with this home because of the views, but also because it was in great condition. As a designer, I loved that I could just roll up my sleeves and start designing. Working with local designers was really important to creating a well-curated, but lived in, space for our family (fur babies included!)

With the open floor plan and pool, it has become a central gathering place for friends and extended family. I wanted to encourage more of this, so I added playful details around the home that evoked a sense of play like conversation starters, ping pong tables, and board games.
Despite loving the solitude up here, we do have to be cautious with the mountain lions. Unlike other places, you can't just let your dogs out at night. They constantly need supervision.
Dogs and owners supposedly "look the same." Does this reflect in the design of your home as well?
I tend to think so! They are fluffy and easy going, very much like our family is.
What factors do you consider when buying pet supplies?
As a designer, I'm a bit biased. We work so hard to create environments that feel so unique and special that there should never be eye sores created by your dog's stuff. Like any piece of furniture, the dog bed should truly feel like an extension of every room.
Despite pets being viewed as extended family, there does seem to be a second-tier design standard for them. It really shouldn't be so difficult to find pet products that are organic, sustainable, and beautiful.
Shop Laylo Pet Beds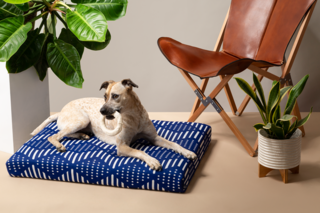 What has been the hardest part of owning a dog when it comes to products and/or maintenance? Any tips?
Our dogs are an extension of the family, so nothing is off limits. These are just a few tips I've accumulated throughout the years as we've added dogs to the family.
Sheepskin: ​An easy, affordable solution to protect your furniture from scratches or licking. Every six months I'll go to the same place in Venice and replace them.
Avoid high-end rugs: If you have a pet, I'd avoid buying high-end rugs. Everyone from Anthropologie to West Elm offers more affordable versions of moroccan rugs that allow you to cohabitate with ease.
Don't be too precious: Your space can't just be for show. It has to be for life. Mixing high and low in terms of pricing creates a space that isn't precious, saving you a lot of stress from protecting your home from your pets.
Related Reading:
Leap Into the Year of the Dog With These 25 Pups in the Modern World