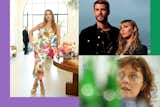 Susan Sarandon Sues Her Construction Company, and Other Celebrity Real Estate News
In our biweekly breakdown of what's happening with famous people's homes: Miley Cyrus reflects on the "magic" of the Malibu home she lost, and Ray Romano and Rashida Jones want to be landlords.
Here's a hypothetical housing question I never thought I'd ask: Would you rather go head-to-head in court against Susan Sarandon because you botched the build of her $2 million home, or have Ray Romano as your landlord? One caveat about the latter option—you'd have to pay him $175,000 a month. (But you would get to live in Malibu!) Go ahead and mull on that while you peruse this edition of celebrity real estate news.

Where in the world is soccer megastar Lionel Messi living? Some think Sea Ranch Lakes, an ultra-exclusive gated community in South Florida that is suddenly in the spotlight. The new Inter Miami team member prompted Sea Ranch rumors after he was spotted grocery shopping there in July; the buzz grew a bit louder in August when teammate Sergio Busquets bought a waterfront home there for $8.7 million. Messi hasn't purchased property in Florida yet (and might end up in Fort Lauderdale instead), but if he makes it official with Sea Ranch Lakes, the multimillion dollar price tag will not only afford him the fun of being close to his buddy Busquets, but also ample privacy and security: the 122-acre, 200-person "village" has its own police force and is almost fully walled. But...he did still get papped at the grocery store there. There's some amount of privacy money can't buy, I guess.

Sofía Vergara has slashed the price once again on her freshly renovated Beverly Hills estate. She first dropped the price from $19.6 million to $17.9 million after listing the property in June. At the end of August she cut it down further, this time to $15.9 million. Why is she trying so hard to get rid of the Tuscan-style mansion? The answer might be found in something else the actress dropped this summer: her former husband, Joe Manganiello. The two announced their separation in July, right in the middle of her attempted real estate off-loading. Things are looking good for Vergara, though—she bought the house before she was married, so she should be able to keep the cash, and if she sells at this price she'll still turn a profit (she reportedly paid $10.6 million for it in 2014).

Unlike Vergara, Marcia Gay Harden has opted not to let divorce separate her from her real estate. The actor is the subject of a recent New York Times "At Home With," and every photo of her 300-acre Catskills, New York, property will leave you seething with "get me to a cabin in nature—immediately" jealousy. Harden told the Times that much of the home was designed by her former husband Thaddaeus Scheel, a prop master and director, and that the decision to keep it after they separated wasn't easy, but she ultimately decided to hold onto it for her children's sense of stability, and her own: "I also think I wanted the kids to know that their dad had built it, and I never wanted to leave a relationship with this ongoing animosity." The article also implies Harden occasionally rents out the property on Airbnb (less as a Gwyneth Paltrow stunt; more as an alternate revenue stream). So if that "cabin in nature" jealousy is eating away at you, soothing it might be as easy as finding the listing.

First the celebrities were attempting to cohabitate with us via Airbnb deals, and now they're trying to be our landlords. Both Ray Romano and Rashida Jones are looking for renters for their California properties; Romano's is a super luxe Malibu beach house, listed for an eye-popping $175,000 a month, and Jones's is a West Hollywood cottage going for a somewhat more reasonable $11,000. Either the SAG-AFTRA strike has to end, or we'll all have to pick which actor we're going to text when the dishwasher breaks.

Parrotheads all over the world are mourning the September 1 death of Jimmy Buffett, a legend known for exalting the Key West lifestyle and bestowing Margaritaville, in all its varied forms. But Buffett also leaves behind a tremendous business empire and real estate portfolio; the musician and his wife bought and sold multiple homes in Palm Beach, Florida, over the past two decades, and he spent his last days in his 5,300-square-foot oceanfront home in New York's Sag Harbor. Still, his personal properties are meager compared to his business ventures, which, along with restaurants and hotels, include Latitude Margaritaville Retirement Villages in locations around Florida. Buffett's company said its partners had "invested, or committed to invest" $7.5 billion in its hospitality real estate projects last year, all but ensuring the Margaritaville lifestyle outlives us all.

Susan Sarandon has a headache, and its name is DeGrenier Contracting and Property Management. According to the Berkshire Eagle, the actor recently filed a lawsuit against the Massachusetts-based company, which she claims submitted inaccurate invoices and billed for work that wasn't done (and performed shoddy work otherwise) on what she hopes will one day be a fully sustainable home on a 47-acre lot in Stamford, Vermont. The lawsuit will demand a jury trial, and the case is not looking good for DeGrenier Contracting and Property Management. Part of the suit states the eponymous contractor allegedly used Sarandon's money to buy a $91,000 snowblower (under his name) (he was not supposed to do this) (allegedly). The actress also reportedly commissioned an engineering investigative report that found 47 problems both minor and major, from mold developing on the exterior overhang to insulation issues.

In a TikTok series made to promote her single "Used to Be Young," Miley Cyrus reflected on the Malibu home where she recorded her 2007 debut album when it belonged to producer Matthew Wilder, and where she later lived with ex-husband Liam Hemsworth, who bought the house during a break in their relationship—without knowing its history, reportedly. (It was, indeed, the home she was living in when she wrote her 2017 single, "Malibu.") The pair lost the house in the November 2018 Woolsey Fire, but Cyrus said it still holds a place in her heart: "[The house] had so much magic to it that ended up really changing my life."

Speaking of devastating wildfires, could building a straw bale house help fight against climate change? Patagonia founder Yvon Chouinard thinks so. He and architect Dylan Johnson completed the build on a 2,200-square-foot straw bale home in Ventura, California, this summer, and the duo discussed the merits of building with this material in a recent Dwell interview. Head on over and greet the future.
Top photos courtesy (clockwise from top left): Phillip Faraone/Getty Images for Anastasia Beverly Hills; Kyle Grillot/AFP via Getty Images; Michal Cizek/AFP via Getty Images
Related Reading:
The Kardashians Are in Their Modern Farmhouse Era
A Home Tied to L.A. History Could Be Demolished—and People Are Upset
Get the Dwell Newsletter
Be the first to see our latest home tours, design news, and more.