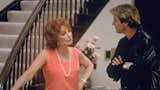 A Home Tied to L.A. History Could Be Demolished—and People Are Upset
An estate sale listing tipped off the internet that a 1930s manse by Leland F. Fuller may be doomed.
Los Angeles might soon lose another one. Last weekend, the new owners of a 1938 Colonial Revival–style residence in Holmby Hills designed by renowned architect Leland F. Fuller held an estate sale to clear out the home with plans to demolish it. And people have thoughts.
The news spread on TikTok and Instagram with many commenters expressing disdain that the historic home would not be preserved. "Los Angeles is such a wonderfully magical and beautiful place bc [sic] within its many walls of architecture there are so many beautiful memories and stories to tell. Irreplaceable moments that can't be bulldozed for concrete and glass mega mansions. From the palm tress [sic] that they wanted to once replace with shade trees down sunset, to the many homes and classically architectural buildings that line the streets—how do we preserve L.A. like they do Palm Springs?" wrote Instagram account @huneybeetea.
A California architect and six-time Academy Award nominated art director, Fuller is responsible for a number of period-revival homes designed for Old Hollywood icons like Gene Autry and Charles "Buddy" Rogers during the 1920s and '30s. He designed this estate in 1938 for the Academy Award-winning director Norman Taurog and his wife, Julie.
Located on a nearly two-acre property in the ritzy Holmby Hills neighborhood, the 8,460-square-foot home features seven bedrooms and eight baths along with a pool and tennis court. While its interior has lost much of the home's original character through neglect and haphazard renovations, its exterior is intact.
The estate has passed through the hands of many Hollywood celebrities over the years. According to an Instagram post by Alison Martino, a writer and television producer and the daughter of singer Al Martino who's regarded as an expert in Los Angeles history, "This home was featured in 'Postcards From the Edge' as Doris Mann's home played by Shirley MacLaine directed by Mike Nichols &!screenplay [sic] by Carrie Fisher. It's also the prior home of 3 time Olympic Gold Medallist Sonja Henie and later actress Connie Stevens." Stevens is the stepmother of the late Carrie Fisher. Some claim that the home is also haunted by Henie.
The current owners, who purchased the property for a chilly $30 million in September of 2020, are rumored to be tearing down the home and building a new one. According to a TikTok video of the estate sale posted by @vintageonq, the house "was ruled out of becoming an L.A. City Landmark because of a partial demo that was done to the home without permits, leaving it in shambles." Such a designation would have protected it against potential demolition.
The fate of the Fuller-designed home is part of a pattern for the City of Los Angeles and the Holmby Hills neighborhood. More examples in the area include Eva Gabor's former estate on the same street, Frank Sinatra's home on North Carolwood Drive, and a 1938 home on North Faring Road built by comedian Fanny Brice.

As word of the sale and upcoming demolition continue to populate social media, commenters are expressing their condemnation that another piece of the city's character and architectural history is set to disappear. "It take [sic] a lot of money to keep up any home and these old dames of yesteryear are no exception," @pineappleshagette commented on Instagram. "The craftsmanship can't ever be replaced. The new and improved just lack the character these homes had. So very sad when deferred maintenance becomes the excuse to tear it down."
Top image courtesy of Sony Pictures Entertainment/Columbia Pictures
Related Reading:
Get the Pro Newsletter
What's new in the design world? Stay up to date with our essential dispatches for design professionals.