Striking Slatted Wood and Glass Home in San Francisco
Teaming up with architect Craig Steely, an industrial designer and a mechanical engineer find just the right design for a striking home on a San Francisco hill.
I rarely went to the Peter–Craig design sessions," says Jan Moolsintong, a mechanical engineer, "but I imagined them to be very intense and animated." Peter, in this case, is Peter Russell-Clarke, her husband and an industrial designer, and Craig is Craig Steely, one of San Francisco's premier residential architects. "For some reason, I always pictured things like foam core or cardboard flying around Craig's office during these sessions, and you don't really want to get in the middle of two excited artists when they are in the groove doing their thing late at night anyway."
Newsletter
Join the Daily Dose Mailing List
Get carefully curated content filled with inspiring homes from around the world, innovative new products, and the best in modern design
Whether any architectural models sailed across the room as Steely and Russell-Clarke mapped out what would become the couple's four-story house, which skims the edge of a vertiginous San Francisco hill, is unclear, but Moolsintong's not wrong about the ardor the pair of designers brought to the process.
"Meetings would generally start with Craig's son, Zane, running down to the studio in his PJs," reports Russell-Clarke, "with his latest design drawn out on a large piece of cardboard. After a thorough explanation of all the details over mugs of mint tea, Craig and I would start talking over sketches and noodling over models. We'd talk about projects he was working on and get carried away with things that inspired us. We were always running to his shelves for some obscure book or another."
Though the two quickly found that they shared a common design language and a host of mutual influences, the vacant site that Russell-Clarke purchased in February 2009, on the heights southwest of Dolores Park, provided a significant challenge: With a view of downtown San Francisco at a vexing angle, a steep slope to build up, and a public staircase inches from the facade, how could the 1,800-square-foot home scale the hill, open to the city, and keep prying eyes out of the couple's bedroom? 
The solution was a deft bit of hide-and-reveal, one of the house's abiding themes, and what Steely calls "a simple idea that solves a lot of problems." The trick here is achieved through a forest of tall, vertical louvers made from cypress trees reclaimed from a roadwork project upgrading the approach to the Golden Gate Bridge. The louvers begin as a fence along the north side of the top floor, which sits on a plateau at the top of the site and holds the kitchen, dining room, and deck. Then, as the view unfolds behind the glass facade, the apertures between the boards—made by Japanese master builder and Zen Buddhist teacher Paul Discoe of Joinery Structures—widen to include the city and bay beyond.
In the master bedroom and soon-to-be kid's room downstairs, the louvers are inside the building, allowing the residents to adjust their views. "There is a thickness and mass to the cypress slabs," says Steely, "sort of an intensity in their size and quantity, that create a unique separation between the private and public, inside and outside."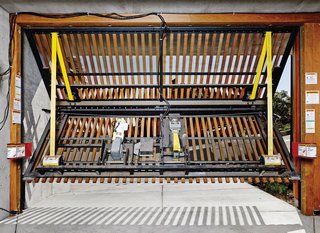 Two floors down, in the garage, the same idea plays out, this time in the form of a custom garage door. Built by Raimundo Ferreira, the door's slatted fingers open outward to uncover a small space that doubles as car storage and a makeshift workshop.
Steely and his crew finished the house midway through 2012, appointing the kitchen with marble from the New Marble Company and fantastically detailed cabinets by Wayne Berger. Though Russell-Clarke and Moolsintong have furnished the home with modernist classics—what industrial designer could resist the siren song of a flight of 606 Universal Shelves by Dieter Rams for Vitsoe or a Bottoni sofa by Marcel Wanders for Moooi?—they've also brought their considerable design skills to bear in the home.
They constructed the coffee table in the living room from offcuts of the marble used in the kitchen and some "retired" climbing rope. In the minimalist bathrooms, they fashioned a "towel ladder" from poplar dowels with small hidden joints. A prototype for the ladder resides in a storage room off the garage. "Jan and I love making things ourselves," Russell-Clarke reports. "I'm sure others could often do a much better job and do it a great deal quicker, but chatting over our designs and getting hands-on with materials keep us happy."
It's that same spirit of collaboration—with each other, with Steely, with Discoe, with a tricky site and the beloved city surrounding it—that made the process of designing and building this house so nourishing. "Craig wasn't precious about his ideas and didn't tread lightly around mine," says Russell-Clarke. "We could just honestly tell each other what we thought in the pursuit of the project. For me, the process of designing was really important. It became a project where we could play with ideas, not just a method of having a house made."