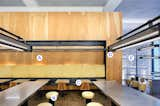 Spicing Things Up
Chipotle's recent approach to restaurant design aims to transform the traditionally tasteless experience of eating fast food into something more refined.
Chipotle Mexican Grill is known for its gargantuan burritos. This year the company is refining its image and rolling out a modern store design created by Architecture Outfit founder Thaddeus Briner. "Chipotle's restaurants didn't parallel the ideology of the food," he says of the old corrugated panels and exposed ductwork. Briner developed a "kit of parts": a recipe book for what the eateries will be made up of. So what can you expect with your carne asada?
Join Dwell+ to Continue
Subscribe to Dwell+ to get everything you already love about Dwell, plus exclusive home tours, video features, how-to guides, access to the Dwell archive, and more. You can cancel at any time.