A 1905 Fire Station in Connecticut Is Converted Into a Community Hub For Art and Music
The conversion of a fire station into a studio, stage, and lodging for musicians tracks the rebirth of a New Haven neighborhood.
Ask any two people from New Haven what Firehouse 12 is, and you're almost bound to get two different answers. To music lovers, the restored 1905 fire station on Crown Street is Connecticut's preeminent venue for experimental jazz, a place where artists who normally have a hard time booking gigs outside of major cities can draw an enthusiastic crowd. For the civic-minded, it's a local success story, the crown jewel in New Haven's decades-long effort to clean up the Ninth Square district. And for others, it's simply a downtown watering hole, albeit a very nice one presided over by an award-winning bartender.
Newsletter
Join the Daily Dose Mailing List
Get carefully curated content filled with inspiring homes from around the world, innovative new products, and the best in modern design
The truth is, Firehouse 12 is all those things, a beacon for the arts and a hub for the community. And at the heart of the venture, started 12 years ago by owner Nick Lloyd, is a recording studio that pulls double duty as a 75-seat auditorium for live shows during the spring and fall jazz series.

"We had to envision the use of space on a very functional level," says Lloyd, seated in the green room late one afternoon. All around, the staff is busy preparing for an evening concert by a jazz trio up from New York. Due to conflicting codes and differing acoustical requirements, recording studios and music venues seldom occupy the same space. In his role as chief engineer, Lloyd—a pianist himself—has mixed and recorded artists from avant-garde jazz pioneer Anthony Braxton to Brooklyn rock group Dirty Projectors. Some have played their songs for an audience in the same spot where they laid down the original tracks. Others have released music through the label Firehouse 12 Records.
"The quickness with which CLT panels provide a finished product is astounding. It's almost instant gratification from a carpenter's point of view."
Name: Bill Cremins
Occupation: Co-owner, ABR Construction Inc.
Connection: Cremin's team of eight assembled the CLT panels in one day using standard wood screws.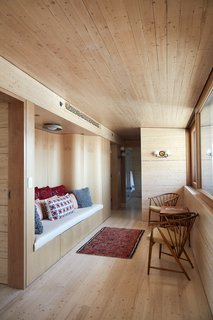 "It was like a sardine can, putting all that in there and still trying to capture the spatiality of the building," says architect Alan Organschi, who, along with wife and partner Lisa Gray, brought the forgotten, nearly 7,000-square-foot former fire station back from the brink over more than a decade.

The couple's ties to Ninth Square run deep. The two met around the corner as grad students at the Yale School of Architecture in 1987. Today, Gray Organschi Architecture is located right next door to Firehouse 12, on a street lined with cafes and shops. Yet they can remember a time when the area wasn't so welcoming. Gray describes things as being "pretty dilapidated" when they opened shop 17 years ago. "One block away was the [now demolished] New Haven Coliseum, which essentially had been abandoned by the city," Organschi says. "It was rusting and the concrete was failing. It was like a giant urban ruin, literally and figuratively casting a shadow over the neighborhood."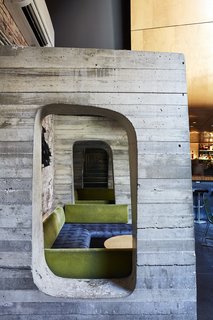 In 2000, the city, hoping to boost foot traffic, put out a request for proposals to redevelop the fire station, which, like many buildings downtown, had sunk into a state of advanced decrepitude. Whole sections of the roof were rotting, a tar-like hydrocarbon coating clung to the walls, and for years squatters had been lighting fires indoors. But the masonry was basically sound.

Lloyd, a Yale graduate who had come back to New Haven to pursue a PhD after running a recording studio in Brooklyn, submitted a proposal for a joint venue and recording studio, with a cocktail lounge folded in separately. "My intention was to have the relationship between the musicians and the audience be as unmediated as possible," he says. "At the famous jazz clubs in New York, it's hard to have that experience because they're trying to sell you drinks, you're at this tiny table, you've been hustled in, you're getting hustled out."
"Any time you can play for people, it's a joyful opportunity. At Firehouse 12, it's even more so, because the whole thing is set up to support the music—physically, sonically and in spirit."
Name: Pete Malinverni
Occupation: Pianist, composer, educator
Connection: The Pete Malinverni Trio played in this year's spring jazz series.
In the interest of community building, the city agreed to sell Lloyd the property on the condition that he and his wife live there for at least seven years after the renovation was complete. Overnight the proposal had to grow to include an apartment with a separate street entrance.
It took six months of prep work in 2003 before the real transformation could begin. In front, the first floor was partially cut away to pour sunlight into the basement—now a bar. On the second story, formerly a hayloft for the horses that hauled water in the days before fire trucks, drop ceilings and plaster partitions were demolished, revealing giant trusses and creating a two-bedroom apartment. To wash light across the residence, the architects devised a scoop of plywood that curves down from a row of clerestories.
But the greatest challenge was creating an acoustically isolated recording studio that could also be used for live shows. To limit the transmission of external sound and vibrations, Gray Organschi suspended the room's ceiling from the upstairs flooring joists by special hangers. Its floor rests on acoustical pucks and a half-inch gap separates the walls from the adjacent rooms. Veteran acoustician John Storyk, who worked on Jimi Hendrix's Electric Lady Studios, mentored the architects, advising them against concave surfaces in favor of rippling ones that refract high-frequency sound. The result is an intensely intimate space that's housed in a cocoon of curved birch, with a screen of milled bent plywood as the backdrop during concerts.

Construction wrapped in 2005 and the first jazz series was held later that year. Yet Lloyd's imagination continued to churn. In 2014, he approached his architect neighbors with a new request: a hostel for musicians, who sometimes travel from as far as Japan to record. By this time, Lloyd and his wife had moved out of their second-floor loft, but more bedrooms would be required to house full bands. A rooftop addition was needed—something lightweight that could be installed easily atop the building's unreinforced masonry shell.

For the architects, the obvious candidate was cross-laminated timber (CLT), a structural wood panel system that they'd experimented with on a school nearby. Like masonry, CLT panels are exceptionally strong, but they can be built off-site and assembled quickly. "Wood is light and easily prefabricated," Gray notes. It's also a highly insulating material. And, because the panels are CNC-milled, their joints are airtight.

"There's no place like it in the city. Its programming has brought in an audience that might not normally make a trip to this neighborhood, and its world-class recording studio brings in artists."
Name: Paul Mayer
Occupation: Owner, Cafe 9
Connection: Located on the same block as Firehouse 12, Cafe 9 has hosted live music in Ninth Square since 1994.
Although CLT is more commonly used abroad, especially in Europe, the architects had a relationship with a manufacturer in Quebec, Nordic Structures, the first CLT-producing member of the American Wood Council. "We knew the guys really well," Organschi says, "It was sort of like, 'Hey, could you send us a bunch of panels?'"
The company obliged, and in a matter of no time, cranes were hoisting precut pieces fresh off of flatbeds onto the top of Firehouse 12. The 650-square-foot, three-bedroom box took just 12 hours to install, followed by a six-month buildout that joined it with the loft via a sculptural wood staircase. The hostel began hosting musicians in early 2016.
Now that Lloyd has finally broken beyond the building's envelope, it's fair to wonder whether he'll ever finish Firehouse 12 or if he's on some kind of mission to see how much he can squeeze out of the stalwart old structure. He himself insists the project is at last complete. As for the architects, they're just pleased to see Lloyd and others pouring their creative energy into the community. "The neighborhood has really improved because of small business owners—it's more of a grassroots transformation rather than top down," Organschi observes. Gray adds, "It wouldn't have been hard for Nick to commit to a larger city. The fact that he decided to stake out ground here in New Haven feels like a gift."