Smart Tech Makes this Modern Home Ultra Energy Efficient
Recommended by
Using a combination of passive design principles and active technologies, LGA Architectural Partners forges a smart, energy-efficient Toronto home designed for aging-in-place.
Describing a modern design as marrying "form and function" is an old saw these days, but in the case of a house in Toronto's Bedford Park neighborhood, it couldn't be more true.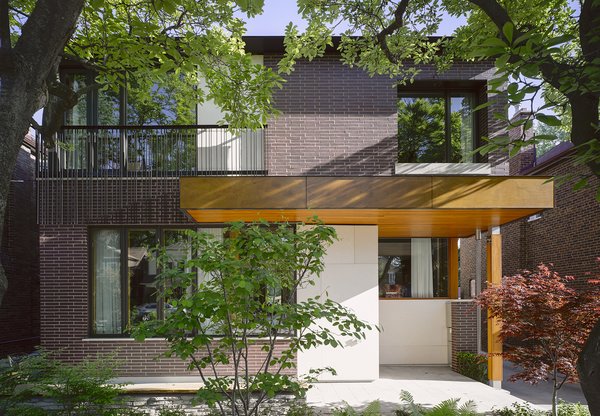 Architect Alex Tedesco, a senior associate at LGA Architectural Partners and a certified building science specialist, created a home that its owners can enjoy for decades. "My building science background allows for a more informed design process based on scientific research that enables LGA to create buildings that are beautiful, perform better, and are healthier for their occupants and the environment," Tedesco says.
The residents—Tedesco's cousin, a doctor, and Tedesco's cousin's wife—desired a home that would evolve with the changing needs of their family, that had privacy, that preserved mature trees on the site, and that would respect the architectural fabric of the neighborhood while still embodying a modern aesthetic.
The resulting 3,100-square-foot, two story house uses a mix of passive design principles and active technology, like geothermal heating and automated lighting, to earn its green credentials. Because the residents intend to live in this house for decades to come, Tedesco selected durable finishes that will stand the test of time. "The materials needed to be elegant and, in essence, could also age well in place," he says. Indeed, the brick-and-wood clad house with its minimalist sensibility, refined details, and thoughtful design moves will endure the test of time—the true marker of a smart home.
Details
Project: Bedford Park House
Diana Budds
@dianabudds
A New York-based writer, Diana studied art history and environmental policy at UC Davis. Before rising to Senior Editor at Dwell—where she helped craft product coverage, features, and more—Diana worked in the Architecture and Design departments at MoMA and the San Francisco Museum of Modern Art. She counts finishing a 5K as one of her greatest accomplishments, gets excited about any travel involving trains, and her favorite magazine section is Rewind. Learn more about Diana at: http://dianabudds.com
Everybody loves feedback. Be the first to add a comment.
The author will be notified whenever new comments are added.