View Photos
Before & After: A Classic Airstream Becomes a Modern Airbnb
A Portland, Oregon, couple pushes up their sleeves and completely transforms a 1958 Airstream Land Yacht into a bright and modern Airbnb.
Set under a tall sequoia tree in Portland's Buckman neighborhood, the "Silver Sequoia" is a 1958 Airstream Land Yacht that now serves as a well-planned, contemporary Airbnb. The project took Cynthia Tuan and Shane Beers two years to complete—with Beers dedicating himself full time to his first Airstream renovation project.
Ultimately, the couple met their goal of creating an efficient, tiny living space with the potential for future mobility in mind. "It was important for us to build and create a unique space for guests to experience modern, nomadic homesteading and get a chance to leave a small footprint while they travel," explains Tuan.
Newsletter
Join the Renovations Newsletter
Get carefully curated content filled with inspiring homes from around the world, innovative new products, and the best in modern design
The couple sought to make the most of the Airstream's aerodynamics and clean lines so that the renovation would remain true to the unit's road-worthy heritage. They chose a neutral/light color palette complemented by reclaimed Settlers' Plank flooring from local company Pioneer Millworks.
Before: The Floors
After: The Floors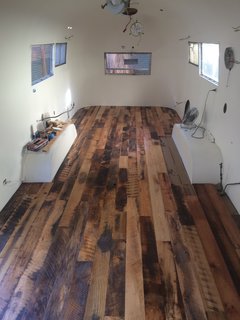 Choosing the reclaimed wood was an important design decision for the couple—they wanted the space to feel warm and cozy, instead of cold and minimalist. "We wanted the floor to serve as a counter-point to our clean interior layout," explains Tuan. "We love the natural texture and patina of the reclaimed wood," says Tuan.

After: The Living Area
Ultimately, they were thrilled with the results and the new life they gave this beautiful piece of Americana. "Even though it's a modern build-out, we didn't want to forget its heritage. Our Airstream is 60 years old this year! There's something about the history of reclaimed wood that feels so right in the space."

Shop the Look






After: The Kitchen
After: The Bedroom
After: The Bathroom