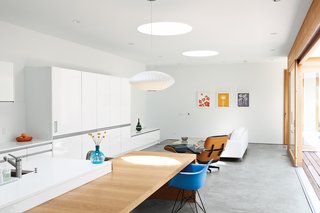 For Paul and Shoko Shozi, a pair of retiring Angelenos, the goal was to shut out the neighborhood but bring in the sunny skies. Their new prefab home, the Tatami House, designed by Swiss architect Roger Kurath of Design*21, makes a central courtyard the physical, and maybe even the spiritual, center of the home. On a fine Marina del Rey morning, Paul shows us around.
During our house hunt in and around Los Angeles, we discovered the Eichler homes in Granada Hills and in Orange County, many of which have a court­yard layout. At first we really wanted an Eichler, but it just did not work out. But after seeing a few we knew that we had to have a courtyard home. We're pretty private, so it was important that we had a home that faced inward. We didn't want to open our curtains or blinds and see the neighbors. 

Join Dwell+ to Continue
Subscribe to Dwell+ to get everything you already love about Dwell, plus exclusive home tours, video features, how-to guides, access to the Dwell archive, and more.