Settle in the Celebrated Sea Ranch For Under $2.9M
Designed by iconic architect Charles Moore, this oceanfront home enjoys its own promontory in a historic community in Northern California.
Stretching 10 miles along the Pacific shoreline in Sonoma County, California, the groundbreaking Sea Ranch community is now 51 years old. The iconic settlement is responsible for the now-familiar concept of living lightly on the land, a philosophy championed by landscape designer Lawrence Halprin, who devised a master plan for the Sea Ranch in 1963. Now, those who want to experience Halprin's utopian vision have the chance with the arrival of a 1971 residence designed by Charles Moore on the market. Moore—who formed the original Sea Ranch architectural firm of MLTW along with Donlyn Lyndon, William Turnbull, and Richard Whitaker—believed in architecture that promotes exploration and discovery, and his style is readily apparent in this three-bedroom, four-and-a-half-bath oceanfront home.

Photos by Paul Kozal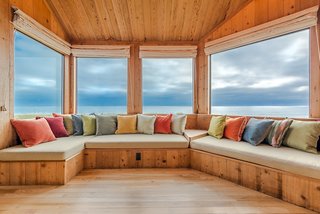 The current homeowners, Alison Owings and Jonathan Perdue, purchased the residence in 2000 and have maintained the original wood paneling, tile flooring, and countertops, down to the painted chessboard under a banquette cushion in the living room. The only modifications have been the addition of two interior doors for warmth and privacy. "We work assiduously to keep the house in excellent condition, considering ourselves more stewards than owners," says Owings. "We knew in an instant that the house was spectacularly well-thought out and well-designed. I gave my husband a thumbs up sign behind the realtor's back."
Set on a private flag lot west of a continuous bluff trail, the home offers ocean views from nearly every room and a large outdoor patio. The asymmetrical home rises and falls across multiple levels in response to the terrain. From the master suite tower, two wings emerge: one includes the master bedroom suite with its own private deck and hot tub; the other includes guest areas, full of playful elements like library shelves installed in the bathroom and bunk beds. The layout of the home makes it ideal for renting out, which the current owners do when they are out of town. "There's lots of privacy, especially for two couples, or one couple and another group," says Owings. "In addition, there are many nooks for reading and napping."
"The house is extraordinarily comfortable—or is the word 'livable'?" continues Owings. "A lot of visitors note that they planned to go out to eat somewhere, but the kitchen was so inviting, and the dining room right there, and with a fire in the fireplace...they never left."
The house is on the market for $2,875,000. More information can be found online. For those looking to rent the home, the Owings-Perdue Residence is available for $941 for two nights through Sea Ranch Escape.
To submit a home for rent or sale, email jxie@dwell.com.