San Diego Teaches Us How Micro-Living Can Thrive
A professor takes the first step toward creating a new model for the city.
It was the middle of the aughts when Woodbury University professor Hector Perez rallied a group of architects to pool their resources and buy nine lots in the historic Barrio Logan neighborhood of San Diego, near the Mexican border, to develop as campus space for the school. Then the economy stalled, and the plans for the university shifted to another area nearby. But the architects kept the parcels with the intention of developing them in a way that would best serve the community.
Newsletter
Join the Daily Dose Mailing List
Get carefully curated content filled with inspiring homes from around the world, innovative new products, and the best in modern design
The first lot to be developed now holds a double-height, mixed-use building of Perez's design, where, in less than 4,000 square feet, he has created eight live-work units, each with a dedicated outdoor space. "I'm sort of the canary in the coal mine, being the first to build, but we were lucky in that all the units were leased by word of mouth before construction was even complete," says Perez, who named the building La Esquina, meaning "the corner" in Spanish—a reference to its position in the neighborhood. "It's an incredibly scary thing to be a developer when you don't come from money, with all the marbles riding on this thing."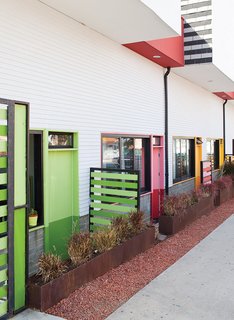 The units, which range in size from 450 to 595 square feet, are all based on the same principle: a high-ceilinged main volume that gives way to a lower ceiling over the kitchen and bathroom, above which Perez shoehorned an open sleeping loft accessed by a ladder-like stairway. The smaller ground-floor units have street-side patios, while three larger units on the second floor include shared open courtyards and private patios overlooking the neighborhood, with its colorful murals and eclectic mix of prewar and colonial-style buildings. Working within a tight budget, Perez managed to build for around $130 a square foot, relying on board-formed concrete walls, plywood paneling, and passive cooling.
On the building's exterior—Corbusian in its geometric whiteness, punctuated by a few bits of color—Perez has placed what he calls "my nod to the premier Hispanic figure in America," a 3-D mural of Cesar Chavez. Conceptualized by Perez's 13-year-old son, Adrian, executed by artists Titus Dimson and Tony Salamone, and designed to be viewed with 3-D glasses, the portrait "is based on a dignified image of Chavez, rendered in a graphic, 21st-century way," says Perez. It's an appropriate gesture for the neighborhood: Just a few blocks away, Cesar E. Chavez Parkway leads to a large park named for the human-rights activist. Adrian, who grew up while this project was being completed, knows firsthand the dedication required to create a thoughtful development. "He was there with me from day one, clearing weeds, and picking up trash from the lot," says Perez. "He says he'll never be an architect," he adds with a laugh. "We'll see."
On any given day, the tenants—all current students, graduates, and instructors from Woodbury—can be found working on art and architecture projects in their apartments, their doors left open to maximize light and welcome the ever-present sea breezes. They meander into one another's spaces to share meals, to collaborate, or to spontaneously gather in the afternoon. "I'm fascinated and inspired by the work that every single one of these people does," says Perez, who often drops by on his way to and from Woodbury, just blocks away. "There are creative collaborations happening all the time.
"When the nine of us bought these lots, we knew a dynamic would evolve," Perez adds. "Being the first one out, I was concerned that the dynamic would not be as lively as it is, but it's so alive. I only know that you have to build the project that you would love to live in."