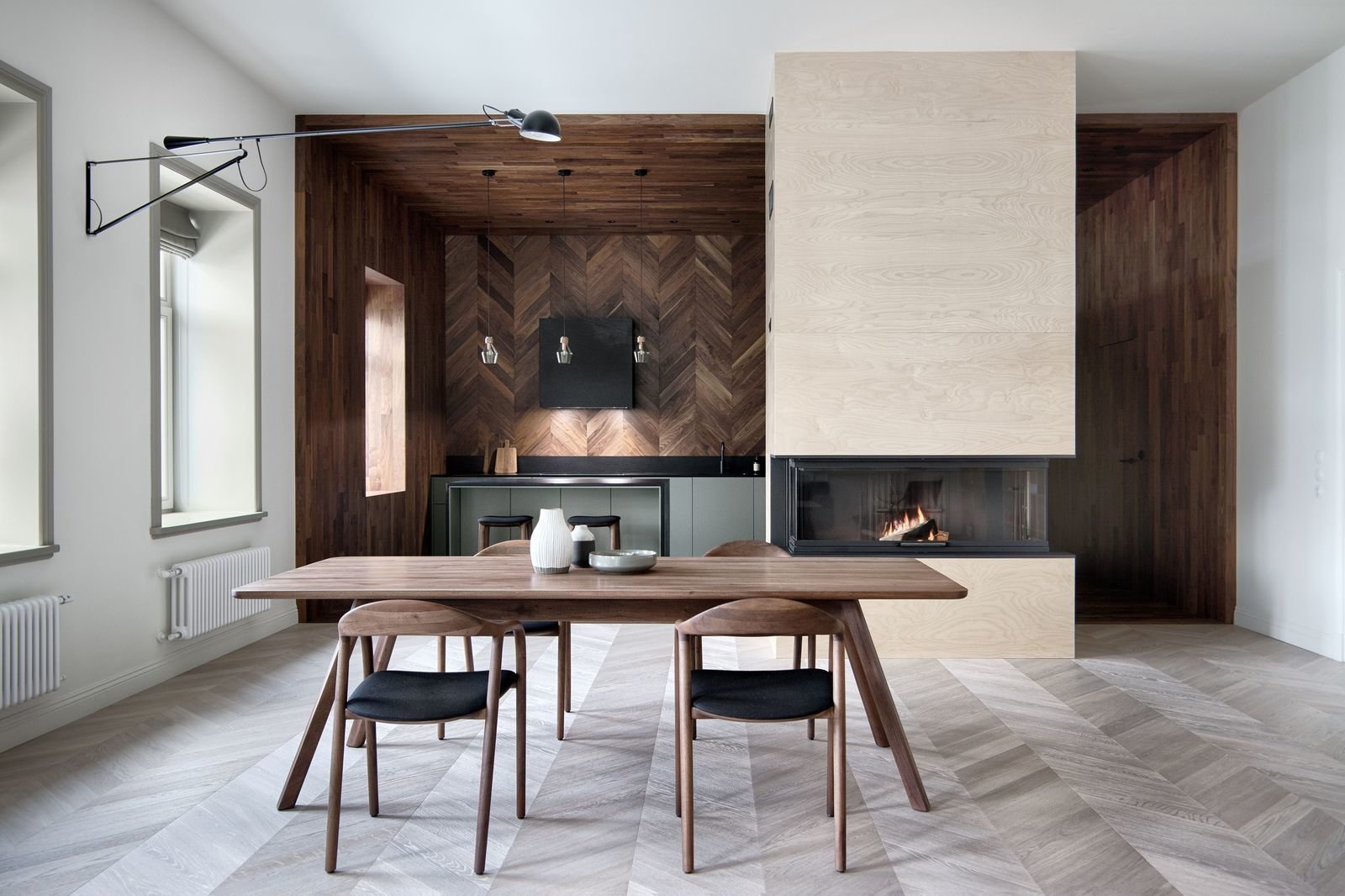 A Variety of Finishes Add Textural Intrigue to This Renovated Russian Apartment
This Saint Petersburg apartment is an exquisite celebration of texture and color.
INT2 architecture renovated a 2,300-square-foot apartment on the top floor of an early nineteenth-century revenue house in the Russian city of Saint Petersburg into a stylish, texturally intriguing short-term holiday property that can comfortably accommodate up to five guests.
The Saint Petersburg-based architects used deep, dark colors for the walls and ceilings, and they incorporated a variety of interesting finishes—including plywood, teak, walnut, quartz, cement tiles, and ceramic granite—into the new space.
The apartment consists of a living room, kitchen, study, laundry room, steam room, and two bedrooms with ensuite bathrooms.
The living room and kitchen, which are located within an open-concept common space, are differentiated with light and dark wood floors. Light-colored herringbone parquet is used for the living area, while dark horizontally laid walnut parquet forms the floor of the kitchen.
Shop the Look
A double-sided cabinet separates the kitchen from the entrance hall. The side of the cabinet facing the hall contains a large wardrobe, while the side facing the kitchen provides storage space where kitchen appliances can be kept. INT2 architecture used black quartz for the kitchen counters as well as the range hood casing.
The walls of the study are painted a moody grey-blue, which—combined with the vintage teak highboard and wooden sideboard—give the space a sultry, nostalgic feel.
A plywood portal in one of the bedrooms divides the sleeping area from the breakfast and sports equipment storage areas along the windows while drawing more natural light into the room.
In the other bedroom, a grey-green ceiling creates the illusion of height, making the room look and feel much larger than its actual size.
Shop the Look
Get the Dwell Newsletter
Be the first to see our latest home tours, design news, and more.