Two Art World Veterans Live in This Mind-Bending Metal Home in Nevada
Located in Reno, the house evokes an abstract sculpture made of raw materials.
Forty-seven years ago, Peter and Turkey Stremmel opened Stremmel Gallery, one of the first fine-art showplaces in Reno. They went on to exhibit work there by such luminaries as Wolf Kahn, Charles Arnoldi, and Phyllis Shafer. The same architect who designed the gallery, Mark Mack, designed their home, a cluster of colorful cubes in the mountains above the city.

Newsletter
Join the Daily Dose Mailing List
Get carefully curated content filled with inspiring homes from around the world, innovative new products, and the best in modern design
The couple treasured the retreat, but when they became empty-nesters, its isolation began to weigh on them. "We were a thousand feet higher than the city," says Peter. "There were times when we were completely snowed in and it felt like The Shining." So in 2013 they found a bluff-side double lot in a neighborhood called Old Southwest, five minutes from the center of town, and started to query architects.
After considering several high-profile firms, they kept coming back to San Francisco–based OPA. "They were more enthusiastic than the others," notes Peter. "A new firm with new ideas."
For the Stremmels, the architects had an especially attractive, but risky, notion. They wanted to build a structure that was the antithesis of its neighborhood, an upscale community of manicured lawns, ranch houses, and tennis courts. Not only would the residence be decidedly modern, itself a unique work of art, but it would embrace Reno's landscape. In fact, it would literally merge with that landscape.

"Reno still feels like a town where people are hunkered down from the elements and the bigness of nature," says firm principal Luke Ogrydziak. "We wanted to bring the feeling of the frontier into the house."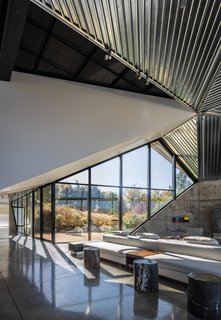 "Everyone is in disbelief that we could have a house like this here."

—Peter Stremmel, resident
Approaching the home is a bit of a shock. The steel-framed building, supported by concrete shear walls and clad in metallic standing-seam zinc, doesn't really look like a house. Instead it resembles a twisted and folded chassis, infused with projections and unexpected spaces, emerging from the sculpted topography. Built elements, from roof planes to walls, appear to slide into each other as you walk around it, shifting like tectonic plates. Hence the title given to it by the architects: Shapeshifter. "Your experience changes as you move around and through it," notes principal Zoë Prillinger.

Unlike in the neighboring boxes, there are almost no right angles to be found. And the home's landscape—a collaboration with designer Delphine Huetz—tilts and juts in much the same way, its slopes, boulders, and desert plantings acting as heat buffers and privacy shields. The couple are further protected from Nevada's intense weather by radiant heating and cooling, double-framed, two-foot-thick roofs and walls, and high-performance windows paired with automatic shades.
Earthen berms actually butt up against the house, allowing visitors to clamber into the second story from the ground. But most people make their way inside via a sloping entry passage that leads down farther into the main space. This 20-foot-tall expanse—containing the living room, dining room, and kitchen—is the heart of the house, carved like a landform but done so with thick steel beams, corrugated metal ceilings, concrete floors and walls, white sheetrock, and massive expanses of glass. At the top of the floating steel staircase, the angled library, lightly supported by steel rods, is cantilevered over the kitchen. Above that, a wedge-shaped gap in the ceiling (which the team calls the "Abyss") cuts through the third floor, opening to the roof 32 feet above the main floor.

"We wanted to bring the feeling of the frontier into the house."

—Luke Ogrydziak, architect
Like the great room, the second-floor guest room and third-floor master suite substitute jutting intersections and glass walls for traditional dividers. These zones flow directly into outdoor spaces—a long balcony for the master bedroom and a patio for the guest room, which is conjoined with a landscape berm.
Moving through the sculptural residence, with its thick walls and surfaces, is like moving through the high-desert setting while surrounded by the couple's collection of paintings, bronzes, and sculptures by Joan Miró, Harry Bertoia, Donald Judd, Manuel Neri, Jun Kaneko, Deborah Butterfield, and others. "There's an ambiguity between inside and outside," says Ogrydziak, "a plasticity in the architecture." The owners especially enjoy how seamless it is to go between the kitchen, living area, and terrace while cooking and eating. "The house flows very easily," Peter says, adding that he sometimes refers to it as "a series of different phenomena."

"Obviously it's a complex house, but it doesn't look or feel like it," says Peter and Turkey's daughter, Piper, who visits often. "Everyone is in disbelief that we could have a house like this here," her dad adds.
Nobody more so than Peter himself, who underwent a heart transplant during construction. "The project was a perfect distraction. It gave me something to focus on instead of my health," he says. At one point he considered putting the plan on hold or even scrapping it altogether, telling the builder he had to prioritize his health. "My wife and daughter said, 'Why are you waiting? You're going to survive this.' I called him back and said to get going on it." He adds: "You have to be committed to the idea of the future to do a project like this."