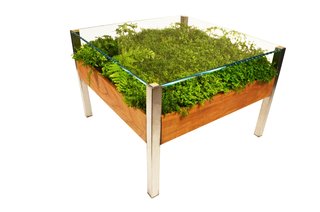 Product Spotlight: Living Tables
Bay Area plant studio Habitat Horticulture has designed plant installations for restaurants, residences, and even the California Academy of Sciences. Now, they share one of their products: the living table. Dwell chats with founder David Brenner to learn more.
Made from black walnut and stainless steel, each table is handmade in Habitat Horticulture's San Jose workshop. The tempered glass top allows either of the two plant varieties from nearby Half Moon Bay, spike mosses or succulents, to be on display.
"The Spike Moss Palette is lush, soft, and evokes feelings of a moss forest floor while the Succulent Palette is a spectacular color display of tiny Sempervivum rosettes contrasted against the chartreuse foliage of the Sedum Angelina," says Brenner. "Although other selections may work, the species that makes up each of the palettes have proved to work over time and have a prostrate growing form keeping them from touching the glass." 
A self-watering irrigation system built into each table allows for plants to slowly absorb water from the bottom reservoir and eliminates the need for drainage and only needs to be watered once a month at most (read: no green thumb necessary). The tables can be used indoors or out, but we prefer them inside for an unexpected touch of green and air filtration.  
Get the Dwell Newsletter
Be the first to see our latest home tours, design news, and more.