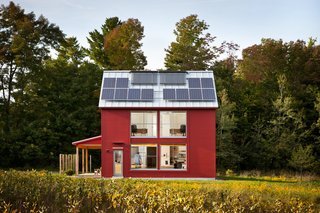 7 Stand-Out Sustainable Prefab Firms in New England
From the use of structural insulated panels to achieving net-zero energy capability, these New England firms are paving the way for energy-efficient prefab construction.
By reputation, New Englanders are resilient—a trait that carries over to their architecture. With benefits ranging from withstanding the region's harsh winters or achieving energy independence, innovative prefab construction in the northeast has been providing comfortable, attractive, and durable homes for decades. Keep reading to learn more about seven stand-out firms in New England producing sustainable prefabricated housing.

In hopes of making beautiful and sustainable homes more accessible to all, architects Phil Kaplan and Jess Thompson created BrightBuilt Home, a prefab firm specializing in net-zero energy homes for the environmentally conscious. Based in Portland, Maine, the firm offers nine customizable, modular options. These include a contemporary 420-square-foot ADU and a four-bedroom, 2,500-square-foot family home. BrightBuilt Home also creates fully custom homes, so long as all finishes comply with their low-VOC requirements and all fixtures are energy-star rated.

As the first certified Passive House components manufacturer in North America, Maine-based Ecocor designs and builds prefabricated houses that meet the highest energy-efficient building standards in the market today. Using Passive House Institute-certified panelized construction and triple-glazed windows, Ecocor promises energy savings of 80 to 90% compared to traditional houses. They also promise a reduced carbon footprint thanks to their low-waste prefabrication process and use of eco-friendly materials. Customers can choose between turnkey custom designs, envelope-only projects, or predesigned homes from their Solksen by Ecocor line with 11 options of varying sizes.
In 2017, Maine-based GO Logic launched GO Home, a product line of Passive House homes built with panelized prefabricated construction. Designed with a rural-modern aesthetic rooted in the New England vernacular, the versatile GO Home line includes ten airtight options ranging from 600-square-foot, one-bedroom abodes to three-bedroom, 2,500-square-foot family residences. Dressed in durable, low-maintenance materials inside and out, all GO Homes come with a heat-recovery ventilation system to provide a constant supply of filtered, pre-warmed air throughout the interior.
In the wake of the devastation Tropical Storm Irene inflicted on Vermont's mobile housing communities in 2011, a coalition of groups, including the Efficiency Vermont and the University of Vermont, teamed up to form the Modular Housing Innovation Project—an initiative that led to the birth of Vermod, a Wilder-based company that designs and builds affordable zero-energy modular homes. As a partner of Efficiency Vermont's ZEM (zero energy modular) program, Vermod also serves low-income homeowners and specializes in mobile home replacement to show how building modular can be an affordable and sustainable housing solution.

After decades of building high-performance homes, New Hampshire-based home builder Bensonwood launched Unity Homes in 2012 to provide a line of energy-efficient prefabricated homes that can achieve net-zero and Passive House standards. The energy-efficient homes are built in Bensonwood's top-of-the-line facility for panelized construction that uses manufacturing efficiency and automation to drive down costs without compromising build quality and energy performance. Unity Homes offers five customizable predesigned layouts in a variety of styles.
Known for their elegant, systems-built homes, Massachusets-based Turkel Design specializes in contemporary, prefabricated dwellings with an eco-friendly bent. The firm recently completed a home for the architect and his family in the deserts of Palm Springs, California. The Axiom Desert House measures 2,110 square feet and offers near-panoramic views of the surrounding landscape.


Stay up to Date on the Latest in Prefab Homes
From cozy cottages to large family houses, see how prefab continues to redefine the future of construction, building, and design.