View Photos
10 Plant-Filled Abodes You Should Follow on Instagram Right Now
Lush and leafy, these indoor jungles are a breath of fresh air.
While the benefits of forest bathing are known, nature and parklands aren't always accessible for city dwellers. The next best thing is having a home that's filled with frond friends, as evidenced by the dreamily green homes tagged #planstagram. Take a moment to meditate with the foliage-filled abodes of the Instagrammers below, and find inspiration for creating your own urban garden.
Newsletter
Join the Daily Dose Newsletter
Get carefully curated content filled with inspiring homes from around the world, innovative new products, and the best in modern design
Friederike Weid describes her home as a small urban jungle. Her space combines contemporary, pared-back furniture with antique finds. In a Scandinavian-meets-boho aesthetic, her maximalist side comes out in plants.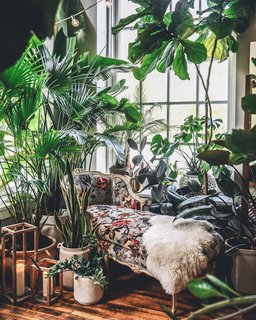 Nestled in Baltimore, Maryland, is the glamorous home of plant stylist Hilton Carter. He's all about jewel tones and texture, from the patterned chaise lounge in the photo above to vintage rugs. His house even has a throne with chair perched in the center of what feels like a lush rainforest. Read our Q&A with the designer and author to get some plant parenting tips.

Nelson De Coninck | @nelplant
Twenty-one-year-old Nelson De Coninck has created an airy sanctuary in Belgium that's flush with foliage. While clean and contemporary, his home maintains a sense of playfulness with quirky pots, unique lighting, and a gallery wall with the reminder, "Water your plants."
Every element of Theodora's space is artfully placed, and each piece curated, but it's far from stuffy: her Berlin flat exudes a sense of warmth, charming in its arrangement of vintage furnishings and decor.
As photographers, shop owners, stylists, and bloggers, creative couple Matt and Tish keep a vibrant, inspiring home that brims with plants and textures. Leather, rattan, and shag abound in their little haven, which pairs antique finds with handcrafted pieces.
Darryl Cheng is a consultant and speaker specializing in houseplants. Located in Toronto, Ontario, his airy home keeps a stone-hued palette to allow his green babies to be in the spotlight. As a plant expert, he offers a wealth of knowledge through his Instagram account and book, The New Plant Parent.

Jaye Workman is a treasure hunter, and her eagle eye is readily apparent from her cozy casa. She amasses thrift store finds, new homewares, and, of course, plants in her Adelaide Hills home in Australia. She even has an entire wall of floor-to-ceiling shelving dedicated solely to pretty pieces and foliage.
Kristin's white, black, and wood haven provides the perfect canvas for a robust plant collection. Laying down a foundation with structured pieces, she allows the rest of the space to be fluid with leaves that grow in every direction. She also incorporates a touch of bronze for a bit of glam.

With a degree in environmental design in the faculty of architecture, with an emphasis in interior design, Cara Anderson knows a thing or two about putting a home together. In addition to filling spaces with plants, she also curates rooms for Casaza. Her home in Canada fuses contemporary charm via classic furnishings with earthly elements like woven pieces and macrame.