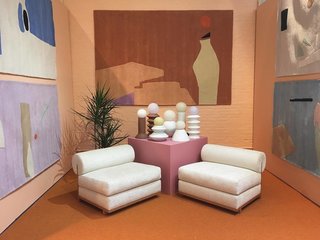 View Photos
10 Asian-Pacific American Designers You Should Follow on Instagram Right Now
In honor of Asian Pacific Heritage Month, we're highlighting the visionary designers on our must-follow list.
From architecture to industrial design, and textile art to illustration, the Asian-Pacific American creatives gracing our Instagram feeds are making waves in a huge range of disciplines. Hit the "follow" button to get an instant dose of design inspiration to your daily scroll.
With a portfolio of A-lister homes including those of Ellen DeGeneres and Portia de Rossi, Cliff Fong creates unexpected environments in both residential and commercial spaces. Deeply embedded in the Los Angeles design community, he's been a fashion buyer and designer, stylist, and interior designer. Fong is also a partner at Galerie Half, a purveyor of European antiques and 20th-century design. His feed is a striking display of spaces he's inspired by, his projects, and vignettes of Galerie Half.
Newsletter
Join the Daily Dose Newsletter
Get carefully curated content filled with inspiring homes from around the world, innovative new products, and the best in modern design
Textile artist Mimi Jung creates topographies and sculptural forms that, through their use of voids and transparencies, invite viewers to turn the gaze inward. Her woven installations have traveled across the U.S., and have also been exhibited in Copenhagen, Brussels, London, and Melbourne. Her art also played a large role in Early Work, the design practice she formerly helmed with husband Brian Hureqitz. Her feed documents both finished work and her process.
Airi Isoda is a trained architect who pivoted to fashion in 2008, and has since worked to bridge the two fields. She cofounded Los Angeles–based studio Wrk Shp with her husband Ryan Upton, where they collaborate on a range of projects—from small objects to buildings and layouts for Blue Bottle, Commonwealth, and private residences. Their clothing line is made with textiles from Japan and produced in California, while their furniture designs and home goods are all made locally. The feed takes you on a tour through the many Blue Bottle locations they've worked on, new products, and spaces they're inspired by.
For some seriously drool-worthy furniture, head over to Brooklyn–based Syrette Lew's Instagram. Her Moving Mountains designs are minimalist, whimsical, and of-the-moment, and she works with regional craftsmen and fabricators to manifest her playful visions. Lew's pieces are generally made to order, but she also collaborates with select clients to offer unique, one-off commissions, including for New York-based retailer Colony. Find captures of her collection, places she's visited, and inspiration on her feed.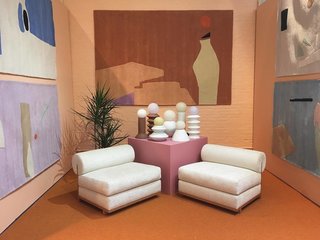 Eny Lee Parker uses clay to create objects, furniture, and lighting. Her designs are delightful and unexpected: take, for example, the Oo Lamp, reminiscent of chunky cactus tops in a myriad of hues. In the WT Collection, she presents a table series, using the potter's wheel to create ceramic bases. Her jewelry line also toys with shapes through ceramic teardrops and chains. Her feed presents her portfolio of work alongside shots of everyday life.
One half of collaborative design studio Aratani Fay, Ayako Aratani is a furniture designer with a degree in engineering and fine arts in 3D design. Her work has won several awards and has been shown on the East Coast as well as Toronto and Milan. In her designs, functional products are reimagined as playful individuals, each with their own personality. While she is an independent designer, she also partners with Evan Fay to develop furniture and decor that fuse opposites: hard and soft, structured and organic, clean and intricate—as seen in their Lawless collection, which melds soft, winding knots with straight, metal lines. All of their pieces are displayed on their feed, along with installation and studio scenes of works in progress.
UMÉ Studio by designer/architects Mei-Lan Tan and Victor Lefebvre is a multidisciplinary design practice that partners with creators in cities around the world to develop a range of products from soap to dishware, and from furniture to concrete trays. Their pieces straddle the line between functionality and art; to scroll through their feed is to dive into a rabbit hole of innovation.
Ceramicist and illustrator Sam Lee reflects on her travels through her art practice. Her collection, which ranges from vases and pendant lights to tableware and bookends, can be found at buzzy San Francisco supper club Lazy Bear, as well as Andytown Coffee Roasters in the Facebook offices. On her feed, you'll find her collection of ceramics, intricate pen and ink drawings, and some cute photos of her dog Harper.
Woodworker, furniture maker, and designer Katie Gong excels in creating pieces that allow the natural beauty of a material to shine—whether it be furniture for Anchor Brewing, or workstation cabinets and showers for San Francisco fitness and coworking studio The Assembly. Harnessing steam-bending techniques, Gong's signature wood knots and squiggles that can be hung on the wall or placed on a flat surface. She also runs artist studio Get High on Mountains with her husband Brett Walker. A scroll through her feed is taking a stroll through her life—see her latest work and installations, her daughter Finn, and outdoor adventures.
Blogger, photographer, artist, and interior designer Dabito runs creative studio and design blog Old Brand New. He also produced the photography in Justina Blakeney's The New Bohemians Handbook series. When he's not traveling for design inspiration, bouncing between Los Angeles and New Orleans, he's remodeling spaces and working on art direction, branding, and photography. His feed is a curation of his boho-maximalist home and projects.