Each Generation Builds on the Last at This Rural Retreat in Western Pennsylvania
An architect adds a pair of rustic modern wings to her childhood home outside Pittsburgh, becoming the third generation to make its mark.
For any architect, designing a new home means grappling with the usual—and usually daunting—challenges: budget limitations, client expectations, delays, design dilemmas, misunderstandings. For Pittsburgh- and San Francisco–based architect Mary Barensfeld, a recent project meant the prospect of all those things, with a few additional factors layered in.

Newsletter
Join the Renovations Mailing List
Get carefully curated content filled with inspiring homes from around the world, innovative new products, and the best in modern design
Her clients were her parents, and the project was an expansion of her childhood home, a place infused with memory and complicated by history. "It's an idea and it's a place," Barensfeld says. "It's amazing how forceful it's been in my life. I didn't want to ruin it."
Barensfeld and her two sisters grew up in the rolling countryside north of Pittsburgh, where her grandfather bought a sweep of land in the 1970s and had a gambrel-roofed, colonial-style home built on the foundations of an existing 1940s farmhouse. In the backyard, an orchard yields apples for cider, and a white bank barn, built in 1910, sits against a hillside. Barensfeld's grandfather, now 93, lives a mile away. "My heart is in the woods between my grandparents' house and mine," the architect says. "That, to me, is home."
The property went through a number of expansions over the years, including in the late '90s, when the family added a new kitchen, family room, and bedroom. But years later, Barensfeld's parents started contemplating ways to make the rambling house more livable as they grow older.
The architect who took on the challenge would have to meet the demands of a tricky wish list from the clients: a new gym (to help delay the potential immobility of advancing years), elevator access near the underground garage (ensuring accessibility), a new area for entertaining guests, and, finally, a design that would make the house appear from the front like the residence that has stood on the spot for years.
"There are projects where you can blow it out of the box—make it look like a UFO has landed," Barensfeld says. "This wasn't that project."
When Barensfeld proposed designing the additions herself, another logistical challenge arose: How would she manage the project when she splits her time between two cities thousands of miles apart? For that, she turned to friend and fellow architect Yvonne Riggie, who is based in Columbus, Ohio—close enough to be on-site and monitor progress when Barensfeld was on the West Coast. "She made this project possible," Barensfeld says. "We could tag team."
They tackled the design challenges together, eventually devising new wings on either side of the house—one housing the gym, a small kitchenette, and a soaring bedroom suite, the other a dining pavilion with a lounge area. Altogether, they added 2,400 square feet to the existing 5,440.
From the front, the extensions, erected by Denny D'Angelo Contracting and Palumbo Contracting, blend in with the old structure and the existing roofline. From the back, they open up to the orchard and native meadow through huge steel-frame windows that allow sun- and moonlight to fill the spaces.
"I think we were successful in keeping the white clapboard and brick front, and then when you walk around to the back, it's completely different—it's all glass," Barensfeld says. "We call it, kind of jokingly, a mullet, because it's all business in the front and party in the back."
They also called it "Run-on Farmhouse," a fitting handle. "You're trying to add these spaces, but when you start to put pen to paper, you realize what's possible and what's not," Barensfeld says. "We needed wings. We needed to put a lift in. It created this run-on effect. It's hard to make something like this compact."
For Barensfeld, one of the major accomplishments of the project evolved from the place itself. Years ago, her parents salvaged some 200-year-old white oak timbers from a deteriorating cabin on a neighboring property and stacked them on their land, figuring they'd come in handy someday.
Barensfeld decided to make those beams—which she'd played on as a young girl—the load-bearing structure of the additions, one that also reveals the character and quirks of the wood. "The timbers are used in a totally modernist way, as structural components, except they happen to be antique logs," says Barensfeld's father.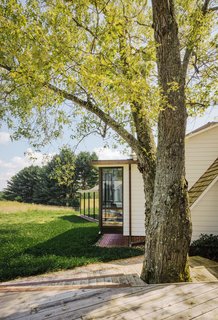 Reusing them required driving giant bolts through the old wood, which felt "like a desecration," says the architect, but turned out to be one of the visual elements her parents like most.
In another nod to the region's native materials—and her family's roots in the steel industry—Barensfeld incorporated steel to connect some of the beams or to support the structures. "It was one of the most rewarding things about the project," she says.
Shop the Look
So, Barensfeld adds, was finishing a job that makes it possible for her parents—and for her—to extend and deepen their connections to home. "That's the house where I grew up. It was an emotionally charged project, wrought with a lot of psychological potholes," she says.
"Having your family as clients brings up little relationship things. But it was a great project—and they were great clients."

Where to Stay in Pittsburgh