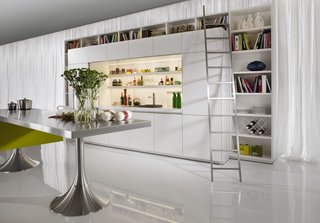 Philippe Starck's Library Kitchen
There is no shortage of incredible kitchen systems to ogle—and if you're lucky, incorporate into your home. Following our recent coverage of Viola Park's new kitchen islands and Snaidero's Code Natural kitchen, here we highlight an imm cologne 2011 Interior Innovation Award Winner: Philippe Starck's Library Kitchen for Warendorf.
Created in late 2010 for Warendorf, an AFG Kitchens UK Ltd company, the Library Kitchen is a complete room solution, with dramatic curves (far from uncommon in Starck's work) in the Trumpet legs below the island that hide plumbing and electrical hookups and a main unit that integrates effortlessly into the wall. While the sleek white-and-olive iteration of the kitchen, equipped with a Silestone countertop, may not exude the essence of a book-lined bureau, however, the version done in Makore wood veneer and white lacquer captures the steeped traditionalism of a home library.
The Library Kitchen was one of three, new Starck designs for Warendorf. It also includes the Duality Kitchen.
Simplest of all is the Primary Kitchen.
Fill up on the Latest in Kitchen Design
Discover inspired kitchens and get design advice for the heart of your home.