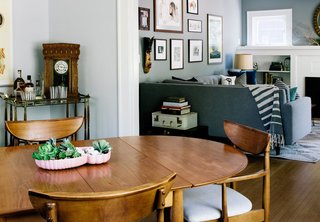 A 1925 Portland Home Is a Rad Mashup of 20th-Century Styles
A local design firm draws from many eras for a Portland renovation.
Sarah Benson prefers traditional neighborhoods filled with early 20th-century houses and big trees and often surrounds herself with myriad connections to the past, from her collection of clown memorabilia to her grandmother's Art Deco–era liquor cart, crafted from brass and turned wood. When she found a 1925 house in Portland's Overlook neighborhood, she was charmed by the area's curving streets, generous porches, tiny yards, one-car garages, and the occasional pocket park. Nestled against a bluff with a view of the Willamette River, the home was also conveniently located near a light rail that replaced a trolley that once ran two blocks away. But the property lacked one major element Sarah desired: a free-flowing, midcentury-style space.
Support Great Design.
Support Dwell.
Subscribe to Dwell+ to get everything you already love about Dwell, plus exclusive home tours, video features, how-to guides, access to the Dwell archive, and more.
Exclusive Home Tours
Unlock premium stories only available to subscribers.
Visit the best modern homes in the world with video tours, original photography, and more.
The Dwell Archive
Dig into years of Dwell magazine.
Browse by date or issue on any device, and check out our curated rotation of favorite stories.
Sourcebook
The definitive list of products and professionals.
Explore our essential resource for finding everyone—from designers to brands—featured in Dwell.