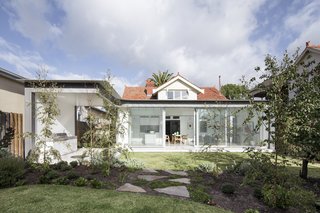 A Renovated Melbourne Bungalow Keeps its Clapboard Character
Outside cladding continues inside this updated and extended bungalow, which now enjoys a breezy garden connection.
The owner of this heritage weatherboard bungalow in the suburbs of Melbourne is a builder who studied architectural history, so keeping the character and craftsmanship of the original building was very important to him.

Looking to renovate his family home to make it more spacious and better connected to the garden, he reached out to Michael Ong, director of local practice MODO Architecture, to help him carry out his wishes.
Ong led the project, called Outside In House, with two questions: "How do we restore a beautiful bungalow while preserving the sensibilities of the original?" and "How do we add a modern addition that can stand separate to the original while simultaneously acknowledging and respecting the original?"
Shop the Look
As a response to these two questions, Ong and his team carefully restored the bungalow to return it to its original architectural style, and while doing so, introduced minor alterations that were designed to be gentle, neutral, and recessive.
They created a new, compact addition at the rear of the house to enlarge the property to approximately 2,432 square feet. This rear addition contains the new living areas and provides a strong connection to the garden at the back of the house.
A clear, glazed link acts as a boundary between the existing house and the extension, connecting the old weatherboard bungalow to the modern addition.

"One of the problems we see in larger homes, is that there is too much space, which sometimes results in families feeling a bit spread apart," says Ong. "We deliberately gave the living area a gentle squeeze, and by compressing the space, we are able to create an intimate and warm family living lounge. There is still plenty of space for kids to run off into their own space, but this design encourages incidental family bonding."
Get the Renovations Newsletter
From warehouse conversions to rehabbed midcentury gems, to expert advice and budget breakdowns, the renovation newsletter serves up the inspiration you need to tackle your next project.