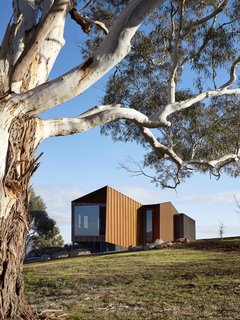 Head to This Cor-Ten Steel Cabin Perched on an Australian Gorge
Oikos is a sculptural hideaway set on a private homestead in Hepburn Springs, where guests can bask in sprawling views while enjoying luxe amenities.
Named Oikos, a moniker derived from the ancient Greek word for home, this Cor-Ten steel vacation home resides in Hepburn Springs, Australia—a resort town about 90 minutes from Melbourne often referred to as "the spa center of Australia." Architectural firm Robert Nichol & Sons were tasked with constructing a holiday rental that would complement the already existing structures on their client's sprawling property, called Breakneck Gorge, which include a homestead, another short-term rental, and some agricultural buildings.
The architects also sought to take advantage of the site's spectacular scenery. "We knew our design had to respect and connect with this stunning location," they explain. "This region has a plethora of available short-term stays, but given the unique potential this site offered, connection to the landscape was critical."
The final outcome ensured that the design would "work with the land, not against it." Because a single material forms the exterior of the entire structure, as opposed to separate wall and roof finishes, the dwelling appears folded in upon itself, taking on a sculptural quality.
The minimalist interiors frame the spectacular surroundings, ceding to the scenery rather than competing with it. The layout is correspondingly simple: "The decision was made very early on to remove any dedicated circulation space, instead adopting a simple sequence of arrival into the open plan living, transitioning through the dressing and bathing zone, and finally into the bedroom."
Shop the Look
Oikos can now be booked for short-term stays.
Get the Dwell Travel Newsletter
Start exploring far-flung design destinations, the newest boutique hotels, and well-designed bars and restaurants perfect for the modern jetsetter.