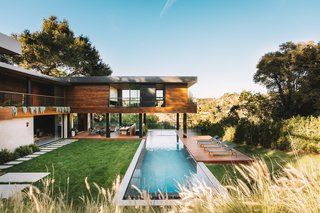 View Photos
You Can Live Like an A-Lister in This Secluded, Treehouse-Like Home in Beverly Hills
The husband-and-wife team behind SIMO Design recently completed their newest home along Beverly Hills' Oak Pass Road—and it's currently on the market.
With less than 40 residences, Oak Pass Road is a coveted area for anyone seeking privacy—especially Hollywood A-listers. Past and present residents of the winding, gated road include reality TV star Lisa Vanderpump, actress Jessica Alba, and actor Channing Tatum. Nestled between it all is the neighborhood's newest property—designed and built by the duo behind Los Angeles-based SIMO Design.
"The house that was originally on the site was very interesting," comments Sam Gnatovich, who leads SIMO Design with his wife, Alexi Rennalls. "The structure was demoed to the studs and left to be, so by the time we purchased the property, the surrounding landscape was taking over. It felt like a 3,000-square-foot treehouse." Both Gnatovich and Rennalls were inspired by the open-air feeling of the original structure, as well as the downward sloping lot, which dramatically opens up to the canyon below.
"When we began the design process, we wanted to embrace that feeling of blurring the lines between where the house stopped and the landscape started," says Gnatovich. "Typically, on a downward-sloping lot the pool would go in the back. The issue then is that the property flow is interrupted by the house."

Shop the Look
For the new structure, the couple settled on a L-shaped floor plan, with the pool and entry stairs filling the open corner created by the design. "In this way, the flow of the house and the property become more connected and integrated," adds Gnatovich.

The home's materials were carefully selected and finished to be refined—yet natural and raw as to soften the form. Gnatovich explains how this philosophy was brought to life in the living room: "the fireplace that divides the living area and the kitchen is clad in cold-rolled steel, which we blackened using a technique that allows the imperfections of the steel to show, while being refined enough that it looks finished and not too industrial."
In another application, the couple chose Pertersen Tegl ceramic brick to dress up a wall of bookcases in the living room, dry stacking the tiles to enhance the roughness of the material.
"We set out to design spaces for the home, pool, yard, and landscape to all come together and interact as one space, while maximizing the attributes of the lot," says Gnatovich. The property is currently listed with an asking price of $11,000,000.