View Photos
Nearly Half of All New Cars Sold in Norway Are Electric Vehicles
And the country is gearing up to end sales of gas-powered vehicles completely.
Norway is one of the world's largest exporters of oil—however the nation is hitting the throttle on electric vehicle sales in a big way. The first six months of 2019 saw twice as many EV sales as the same period last year, and by 2025 the nation plans to completely ban gas-powered cars.
The goal seems lofty—but when faced with the price of gas, the detrimental effects of air pollution, and consistent road tolls, Norwegians are increasingly turning to electric vehicles. According to Reuters, Norway is "the global leader in per capita electric car sales by a wide margin."
Newsletter
Join the Daily Dose Newsletter
Get carefully curated content filled with inspiring homes from around the world, innovative new products, and the best in modern design
This is certainly the result of some no-brainer incentives put in place for buyers. Battery-driven cars are exempt from the heavy taxes imposed on gas-powered vehicles, and EV buyers get additional benefits—like discounts on toll roads, parking, and car ferry fares. There's also a kind of one-upmanship that piggybacks on the fiscal benefits—one that becomes apparent when an EV parks front row, or zips past traffic using toll roads.
The Tesla Model 3 was the best-selling EV worldwide in 2018, and it's Norway's top-selling vehicle in 2019, period. Nissan, Hyundai, and BWM are also seeing a spike in EV sales, while companies focusing on gas-electric hybrids—Ford and Mercedes-Benz, to name a few—are losing ground in the rear view. (Though they are promising all-electric vehicles as soon as next year.)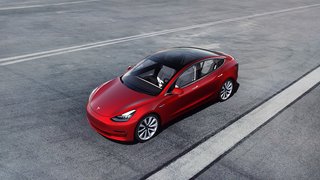 While car buyers in America and China have purchased a higher volume of battery-driven vehicles than anywhere else, they're still buying a disproportionate number of diesel and petrol engines; that market hasn't seen much of a dent. Norway's trending fast towards all-electric roadways, and the rest of the world may want to take note.

Related Reading: A Cubic Dwelling in Norway Just Oozes Hygge