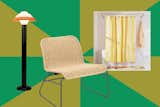 Buy Yourself a Little Slice of Sunshine With These Cheery Spring Pieces
We've got a new offering from your favorite shower curtain company, and an outdoor chair that would work just as well indoors, too.
If the amount of pollen in the air is any indication, spring is here in some capacity. The days are longer, the weather is creeping towards something akin to summer, and if you're still suffering form the dregs of winter's ick, maybe it's time to let some brightness into your life via retail therapy and new home goods.
This chair, from Burrow's outdoor furniture collection, would be great outdoors by the pool, but it'd also be fine inside? The wicker is an all-weather synthetic situation, the chair itself assembles in a snap, and honestly, caning and the like looks great but is not nearly as durable as you may want. Get the chair!
Everyone you know with a bathroom probably has a Quiet Town shower curtain (the colored vinyl iteration), but expand your horizons and consider this offering, in a citrus-y cabana stripe.
The detritus of allergy season is easier to manage if you have a zippy little trash can for all your Kleenex.
There's no "season" for replacing your flatware, so let's just say that now is a good time to see if you're still attached to the set you got from Target. These are gorgeous, French, and ludicrously expensive—buy them!
George Sowden's quirky lamps come with silicone shades that are easy to clean and also look like little hats. This is a nice option if you want the Memphis look without going full nurserycore.
Get the Shop Newsletter
Smart shopping for the design obsessed. Find what you love in our expertly curated selection of finely crafted home, office, travel, and lifestyle products.