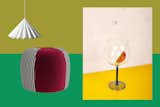 This Rafael de Cárdenas Pouf Is Asking for Friends
Keep your new piece of furniture company with a saucy pendant lamp and an Aperol spritz glass with a sense of humor.
Here's a secret that no one (maybe) will tell you, but they might if you ask nicely: Every room in your house could benefit from a pouf, similar to the one that we're about to show you here. What's not to love about extra seating that also functions as decor? Furthermore, if a pouf has a personality that demands center stage, what else are you to do but listen? Give your new furniture pal some friends with these home decor items that have a sense of humor.
Is it a stretch to say that this pouf, from designer and architect Rafael de Cárdenas's new collaboration with Mitchell Gold and Bob Williams, is a neutral?
There's a pleasant Pee-Wee's Playhouse vibe to these chunky-handled espresso mugs, which sit at the same table as those Gustaf Westaman chunky plates but are a little less in your face.
Hello, it's spritz o'clock somewhere, and if you buy this glass, that somewhere is your kitchen, whenever you want.
Please hurry to Design Within Reach, as their semi-annual sale is still happening! Buy this oversized pendant lamp, made of felt so you don't have to worry about it falling and injuring a guest during cocktail time.
When guests say "Wow, what a nice replica UFO you've placed in the foyer," you can gently correct them and say, "No, Elisabetta, it's a Bang and Olufsen speaker, made in collaboration with SSENSE, and it's beautiful."
Get the Shop Newsletter
Smart shopping for the design obsessed. Find what you love in our expertly curated selection of finely crafted home, office, travel, and lifestyle products.