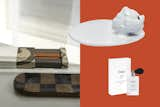 Make Your House Smell Like Spring Is Coming Soon
In our new series What's That Smell?, we'll bring you any and every home fragrance solution that isn't a candle. This month: laundry detergent and incense that smells like palo santo.
Welcome to What's That Smell?, a monthly roundup of the newest and the best in home scent solutions, from a dedicated home scent enthusiast to you.

March is a tricky time, in terms of scents for the home. While you might be sick of the cold weather notes—pine, cedar, nutmeg, wood—the weather outside tends to tell you that you have to surround yourself with them for at least a few more weeks. It's an enormous problem, and it's unfortunate that the government is doing nothing to remedy it. However, there are ways to cope. In times like these (March) we must seek out transitional scents to pull us out of our winter doldrums and into springtime zeal. We must also seek out other nice little things, just to make ourselves happy because we deserve it, or maybe we don't; it doesn't matter. Here is a collection featuring each.

It's a spa vibe!
I'm always searching for ways to make my life more like the life of a woman of leisure, or the life of a woman who accidentally got trapped inside of a spa at the end of the world and now has to live out her remaining days alone and in total relaxation. This new bath and towel spray from Esker sort of gets at the vibe. (But not scary.) It smells like eucalyptus, lavender, and palo santo, and you can spray it anywhere—in your shower and on your towels, like the name suggests, but also on your bathrobe, or your bed sheets, or your couch. In your mind, you're instantly transported to a spa. (Whether or not it's the end of the world is your call.)
It's not Diptyque (but spiritually similar)
If you're very particular about decor, it can be hard to find a good scented candle that doesn't look out of place in your space. Diptyque is always elegant, but everyone has Diptyque. You know what everyone doesn't have? A "Perpetual Youth" candle from Australian brand the Busted Gentleman. The scent is citrus-focused and grounded in moss and earthiness, with a bit of vanilla (but, thankfully, not too much). And the porcelain vessel, displaying the bust of Apollo, is both understated and beautiful.
It's not on fire!
Trudon's much beloved Abd el Kader scent works for every season, with notes of winter-appropriate ginger and clove and warm weather-y mint, lemon, and jasmine. And the brand's new diffusers allow for a particular pleasure their candles don't, which is: the feeling of being greeted with a Trudon fragrance immediately upon walking into your home after a long day. (Or, you know—I at least hope you're not leaving candles burning in your empty home during the day in order to be greeted with the scent when you get back.) The diffuser is luxurious and, most importantly, not a fire hazard.
It's French!
Just completely gorgeous, like all of Astier de Villatte ceramics. Make your incense ritual even more enjoyable with this lady's floating head.
It's (only sort of) woo-woo!
And while we're on the subject of an incense ritual, I recommend burning this sustainably sourced palo santo incense from Subtle Bodies.
It's gorgeous!
Brooklyn candle studio Joya always has the most beautiful candles, both in terms of vessel and scent. This one is a collaboration with the artist Shantell Martin, and is meant to bring to mind the passage of time. The candle is separated into two layers, each of which offers its own distinct scent; the first featuring clary sage and lavender, the second featuring green tea and ocean air. Burn through them and wonder where the hell they've gone, like you do all your days.
It's Gen Z-approved
I've heard from multiple sources that candle warmer lamps are popular now because of TikTok. I don't feel the need to investigate this claim for myself; I'll believe whatever anyone says about TikTok because it is a scary bottomless void about which I'm sure you could substantiate any claim. That said, it does seem very "Gen Z" to reject the wasteful old method of actually burning one's scented candles, in favor of the not new but newly re-popular method of melting them much more slowly, via electric heater.
Would I employ this method myself? No. I like the flickering flame and the ephemeral, almost memento mori-esque nature of a burning candle. But if one must reject the warm glow of a bougie parfumée in favor of the warm glow of a lamp, this is an elegant option. Just remember that nothing lasts forever. Not a scented candle. Not even youth…
It solves for tedium with scent!
I absolutely love a luxurious laundry soap. It turns washing your clothes—usually a chore—into a slightly more enjoyable chore. I've been using Kerzon's "Super Fais" for a few weeks now, and its clean scent, with notes of cedar and ylang, brightens my mood whenever I get a good whiff.
We love the products we feature and hope you do, too. If you buy something through a link on the site, we may earn an affiliate commission.
Candles galore, below:
How to Get Into Scented Candles
An Exhaustive Candle Gift Guide for Absolutely Everyone in Your Life
Get the Shop Newsletter
Smart shopping for the design obsessed. Find what you love in our expertly curated selection of finely crafted home, office, travel, and lifestyle products.