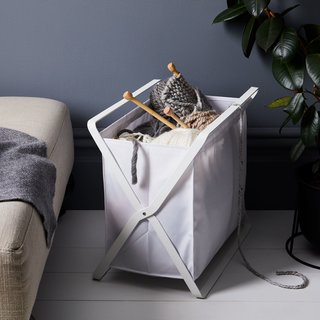 View Photos
15 Chic Storage Bins to Spark Joy in Your Home
If you're in the throes of decluttering your home through professional organizer Marie Kondo's outrageously popular KonMari method, you'll need these stylish storage boxes.
Japanese pro organizer and bestselling author Marie Kondo has made her way into the limelight recently with her brand-new Netflix series Tidying Up With Marie Kondo. Timed with the arrival of the new year and resolutions for self improvement, Kondo's show—which reveals how organization can make your life at home a more peaceful, blissful place—has struck a chord with the American audience, to say the least.
Newsletter
Join the Daily Dose Newsletter
Get carefully curated content filled with inspiring homes from around the world, innovative new products, and the best in modern design
If you've read the organizing expert's number one New York Times bestselling book The Life-Changing Magic of Tidying Up: The Japanese Art of Decluttering and Organizing or watched the new, eight-episode Netflix series, you know firsthand that Kondo is pretty particular about storage products.
"I can honestly declare that storage methods do not solve the problem of how to get rid of clutter," she writes in her book. "In the end, they are only a superficial answer."
Kondo discourages people from running to the store to buy fancy products that impart a false hope for organization. She believes that they merely give off the illusion that your problems with clutter have been solved. Instead, she preaches simplifying storage so you can "tell by a glance how much you have."
Watching the show, you can see Kondo in action, specifically selecting boxes as her storage method of choice. She uses clear plastic bins with lids for large items and upcycled shoe boxes for folded garments. Kondo even launched—and sold out of—her very own line of Hikidashi Boxes that can be used for all sorts of items from komono (miscellaneous things) to clothing.
We've rounded up some of our favorite containers to help you bring the KonMari movement home and tame the clutter.