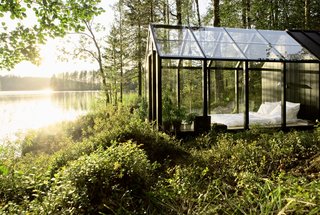 11 Prefab Woodland Cabins With Storybook Appeal
From traditional, gabled dwellings to rounded pods, these prefab cabins offer an idyllic retreat into the woods.
If escaping into nature is your idea of bliss, you'll find storybook perfection in these prefab cabins. Built off-site and carefully introduced to the landscape for minimal site impact, these small—yet exquisitely crafted—structures embrace the great outdoors with large windows and a natural material palette.
Join Dwell+ to Continue
Subscribe to Dwell+ to get everything you already love about Dwell, plus exclusive home tours, video features, how-to guides, access to the Dwell archive, and more.
Exclusive Home Tours
Unlock premium stories only available to subscribers.
Visit the best modern homes in the world with video tours, original photography, and more.
The Dwell Archive
Dig into years of Dwell magazine.
Browse by date or issue on any device, and check out our curated rotation of favorite stories.
Sourcebook
The definitive list of products and professionals.
Explore our essential resource for finding everyone—from designers to brands—featured in Dwell.