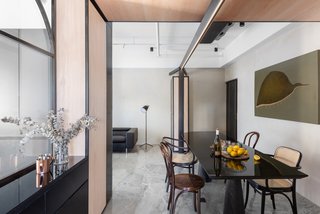 View Photos
Top 4 Homes of the Week With Delectable Dining Rooms
We'd love to take a seat in any one of these impeccable, modern dining rooms. Featuring plenty of natural light, cool color schemes, and elegant furnishings, these homes from the Dwell community have us planning our next dinner party.
Featured homes were submitted by members of the Dwell community through our Add a Home feature. Add your home to Dwell.com/homes today.
Architect: Olson Kundig, Location: Omaha, Nebraska
From the architect: "Opening up the home to the surrounding landscaping was a prime directive for the remodel, as was the desire to concentrate common living spaces onto a single level. The new program brings the main living and dining areas of the house under one sheltering pitched roof that conveys the home's Midwestern context. Opening up this roof with a single long skylight running down the middle of the pitch brought a new sense of lightness to the gallery-like home."
Newsletter
Join the Daily Dose Newsletter
Get carefully curated content filled with inspiring homes from around the world, innovative new products, and the best in modern design
Interior designer: W&Li Design, Location: New Taipei City, Taiwan
From the interior designer: "Every area should be perfectly designed because the space is totally precious and the users [should] be very comfortable in it. Therefore we decided to allow the dining room to become the core of the space – linking every corner, decreasing the walkway."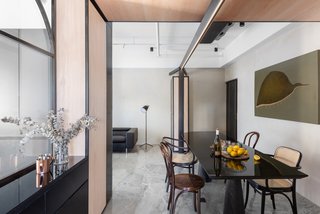 Architect: KDVA Architects, Location: Moscow, Russia
From the architect: "Less is more. Less is eco. In this projects client wants to create open space, pure lines, 'simplicity,' and eco-friendly."
Interior designer: Robert Diaz, Location: Los Angeles, California
From the project uploader: "Built with thoughtfulness, scale, balance and use of only the finest construction materials, this five bed/seven bath home is for the most discerning clientele. A 14-foot island station, 60" Wolf and Sub-Zero Pro bring this massive chef's kitchen to life. A formal dining room, library parlor and large secondary informal dining room have been built and equipped with Workstead, Serge Mouille and Kelly Werstler lighting. [There are] rift and quarter sawn oak interior doors and ceilings throughout."
Want a chance to be featured? Add your home here!