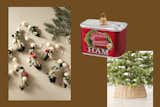 Some Festive Decorations to Fill Your Home With Holiday Cheer
Deck the halls with seasonal trimmings that are classic and a little kitschy.
However you celebrate the season, these stockings, ornaments, candles, and more will get you into the holiday spirit.
Is there anything more festive than a tea towel?
The only thing that would improve this flamingo ornament is a little pair of sunglasses, but even without, she's perfect.
Cranberry and popcorn garlands have their place, but these adorable woodland creatures engaged in the time-honored tradition of a snowball fight make for a nice update.
This candle brings the candy cane vibes without making your living room feel like the Santa Claus kiosk at the mall.
A more architectural take on the standard star that also functions like a festive fidget-spinner.
A lovely centerpiece for your holiday cookie tablescape that also smells vaguely festive.
Think potpourri, but make it chic, vaguely mysterious, and surprisingly sensual!
Fairy lights aren't always as subtle as you'd imagined, but these cast the correct amount of gentle holiday glow.
It's a classic for a reason!
The rare holiday ornament that you can keep up year round.
Forgo the fussiness of a traditional tree skirt and allow your tree to have some dignity with this sensible alternative.
This isn't quite a Lenox Christmas village in aesthetics, but it is similar in spirit.
Do NOT forget the front of your house, which deserves the same amount of cheer as the inside!
No room for a big tree with all the trimmings? This tabletop number is pre-lit! And it's cute!
Sometimes it's nice for the decor to whisper instead of scream.
The first rule of Christmas ornaments is that they should be fun.
If you're allergic to red and green but are not immune to holiday cheer, these are a fair compromise.
Linen is unexpected for a stocking, but that's what makes these stand out.
Wooden candlesticks are a nice, traditional alternative to the terrazzo and chunky ceramics and feel special.
These aren't subtle—but this is the time of year to lean into kitsch, just a little.
The best ornament in all the land is right here.
Get the Shop Newsletter
Smart shopping for the design obsessed. Find what you love in our expertly curated selection of finely crafted home, office, travel, and lifestyle products.