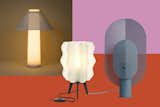 29 Svelte Bedside Table Lamps for Light That's Just Right
Whether you're headed to bed or greeting the day, set the mood—or just find your phone—in style.
The bedside table lamp is accent lighting at its best: It can foster a calming environment to usher in sleep, provide a warm glow as we round out the day with a good read in bed, or even rev up the romance when the moment strikes. Whatever your routines may hold, herein are our favorite bedside table lamps to light the way.
Get the Shop Newsletter
Smart shopping for the design obsessed. Find what you love in our expertly curated selection of finely crafted home, office, travel, and lifestyle products.