The legendary Italian architect, designer, and artist discusses the power of empathy in design, the fight against complacency, and the state of the design business today.
Newsletter
Join the Daily Dose Mailing List
Get carefully curated content filled with inspiring homes from around the world, innovative new products, and the best in modern design
You were one of the founding members of the Memphis design movement, which gained global notoriety in the mid to late 1970s. What was Italy like at that time?
In the 1970s, I was a student. When you are a student, you have all your life in front of you, and you have to be optimistic. I wanted to show myself as able to make life better. It was also a very special moment, because in 1968 students started, especially in France and later in Italy, to be openly against not only the political regime, but especially the concept that everything should be immovable, closed, paralyzed by rules and traditions, by conventions. Especially conventions. This was fantastic for me, to fight against this bullying situation. To show that the role of an architect is much more exciting and important than just to design objects and buildings. At the time, our belief was that an architect and a designer should not design to impose their will, but should design to excite the creativity of people.
Your breakout collection in 1979 was a series of prototypes for everyday appliances. At the time, you were quoted as saying that objects are meant to be used and loved with joy. Do you still feel the same way?
Yes. Oh yes, definitely. And this is also my answer to ecology. If we want to keep the world in a correct way, in a balanced way, not to waste too much, we have to love more. Even inanimate objects. Because in any case, nothing is inanimate. Objects, they speak. They talk. They have a history.
Tell me about your relationship with Ettore Sottsass.

He was my mentor, almost my second father. I lived with him for nearly ten years, day and night. And when we created Memphis, we really wanted to be free from any constraints coming from rules in design. Especially those from the German Bauhaus. We wanted just to break all these rules, introducing what was definitely not accepted by the Bauhaus. For example, to introduce again interior decoration. The Bauhaus was very rigid, cold, abstract. We wanted to bring again an emphasis on decoration. Memphis was a provocation. Memphis is freedom and optimism, the best possible combination of feelings.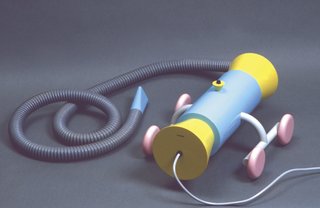 "If you don't have the correct eyes to understand what's happening around you, you cannot design for life." Michele De Lucchi

You are on the faculty at Politecnico di Milano. What's it like to be on the other side of the classroom?
At the beginning, I was quite surprised to see how much diligence students had, and how accepting they were to every condition, every rule. In every frame, they were conditioned. It was actually quite the punishment for me. I started to look for a new reason to be excited. I offered them all these very abstract topics, ones that are not concerned with how to design a tower, roads, restaurants, offices, apartments, and other examples. I started to give them topics much more related to this life, this everyday life. I teach the "Aesthetic of Misery." I teach the "Aesthetic of Chaos." It's a way to teach that when one designs something, they do not design only objects, or only buildings—they design the life of people. And this understanding cannot be cut away from the design perspective.
Your firm recently completed a home for Alzheimer's patients.

It was a project I did for the school, the first topic we brought to the university. Alzheimer's is a very unknown disease. Those who suffer from it, they live in a totally uncontrolled manifestation of stress. They do not have control. This was very pressing to me, because I had to think about what it's like to have a life that is so extreme. So I asked the students to design not only for those who suffer from the disease, but also for the caregivers. We need to create spaces for the caregivers to come together, to share their experiences with each other. Because it is so stressful, and it's such a responsibility. You can't escape it. For the student exercise, we didn't cross the technicalities, just the human approach. Because, especially for young designers, they have to know that it's not only a matter of technicalities, it's a matter of understanding life. If you don't have the correct eyes to understand what's happening around you, you cannot design for life.
"Memphis was a provocation. Memphis is freedom and optimism, the best possible combination of feelings." Michele De Lucchi

As you prepare students for making a living in the design industry, it seems as though the market expectation for new works has sped up.
You know Salone del Mobile in Milan every year? Every year, every year. It's almost a nightmare. But what is exciting is that this is the benefit of the market. I mean, it's fantastic. Every year, we are forced to present something new. And when we present something new, that doesn't mean that there has to be a new bestseller. It's a way to foresee the future.

So it's a good thing that the market is demanding, so the creative mind stays active.
Yes, always. Always. It's not only a matter of design objects, but also a matter of installing objects, and creating a new possible vision, a new imagination for the future. Sometimes it's quiet and sober, sometimes it's very colorful, exciting, and positive. How beautiful, then, that a discipline—one that in the past was just considered technical—is becoming such an important indicator for the moods and needs of the people.