Mehrfamilienhaus in Männedorf by Hurst Song Architekten
Mehrfamilienhaus in Männedorf is a minimal residence located in Zurich, Switzerland, designed by Hurst Song Architekten.
The building is characterized by large corner windows on every side of the building, and balconies that overlook the neighborhood on the upper levels. The interior is characterized by polished concrete ceilings and walls accented by light wood floors and furniture.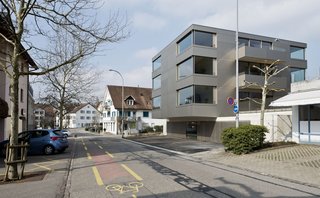 Get a Daily Dose of Design
Sign up for the Dwell Daily Newsletter and never miss our new features, photos, home tours, stories, and more.