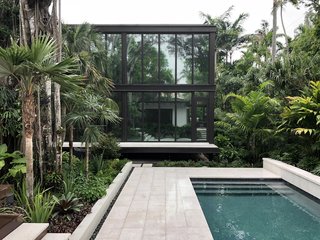 View Photos
Before & After: A Modest Midcentury in Miami Expands Around a Lush Courtyard
Brillhart Architecture protects the home's old-growth trees and adds two sleek wings for an oasis setting.
In Miami's desirable Coconut Grove neighborhood, a small residence designed by architect Trip Russell in 1948 would have been slated for demolition if not for its seat on a double lot, which allowed Brillhart Architecture to intervene with an elegant, 3,000-square-foot addition. At 1,260-square-feet, the original one-bedroom had a low-lying roofline, concrete block construction, and exposed wood rafters—all hallmarks of its era. Protecting its midcentury spirit, preserving the existing trees, and adding two contemporary wings, Brillhart Architecture has created a refined home that embraces its tropical setting.
Before: Exterior
Get the Renovations Newsletter
Get carefully curated content filled with inspiring homes from around the world, innovative new products, and the best in modern design.
When Brillhart Architecture was approached by a developer to expand the original Russell home for resale, the notable challenge for the firm was not only to preserve Russell's design, but the trees that surrounded it. To do so, they flanked the original midcentury home with two new wings—a one-story kitchen wing connected to the rear, and a two-story living/bedroom wing on one side—to create a home that's now 4,041 square feet.
The additions form a rear courtyard, keeping those old trees intact. "In great tropical houses, courtyards are always the nucleus of the space," says architect Jacob Brillhart.
After: Exterior
Keeping the established trees was extremely important to the firm. "As an office, we don't like cutting trees down. We feel that the trees give the site a sense of history, and it makes the place feel like it has some meaning," says Brillhart. "We designed all the buildings and the new pieces to weave in and around the landscape. One of the goals of our office is always to make the architecture subordinate to the landscape."

Such an approach was also appropriate for the neighborhood. "Coconut Grove is known for its tropical tree canopy," says Brillhart.
Before: The Entry
After: The Entry
Before: Living Room
After: Living Room
During construction, the project found new homeowners in Suzanne Goldstein and Dana Greenwald, both retired. Having lived in historic houses before, the couple were struck by the property's charm. "We liked the fact that this house had a history," says Goldstein. "This home has a soul to it," adds Greenwald. "It gives us the joy of the history and of modern living."

Before: Kitchen
After: Kitchen
Before: Pool and Backyard
After: Rear Courtyard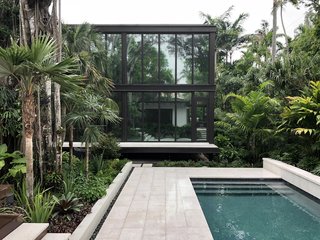 After: The New Wing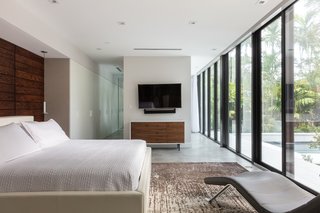 Before: Floor Plan
After: Floor Plan