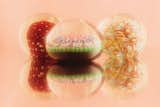 A Texas Designer and Hotelier's Collection of Glass Paperweights Reminds Her of Lives Past
Liz Lambert reflects on a set of three orbs given to her by her inspiring brother.
My brother Lyndon gave me these Murano glass orbs to mark big occasions. He gave me the first one—with the millefiori pattern and small white stars—when I graduated from law school. It came new, in a box with a ribbon, and the presentation was beautiful. It's more grown-up than the other two, which were bought secondhand. The blood-colored one was a gift for my 30th birthday, and the one with the "snakeskin" ribbon was when I moved back to Austin, Texas, from New York City.

Join Dwell+ to Continue
Subscribe to Dwell+ to get everything you already love about Dwell, plus exclusive home tours, video features, how-to guides, access to the Dwell archive, and more. You can cancel at any time.