Live from London: Zoe Murphy
Recommended by
Pieces from furniture and textile designer Zoe Murphy were among of the standouts during our weekend tour of Tent London, an amalgamation of art, architecture and design on display at the Truman Brewery, a reclaimed warehouse on Brick Lane in East London. Here Murphy shares her thoughts on inspiration and her design process.
A 2008 graduate of Loughborough University, Zoe Murphy was educated as a textile designer. Her colorful and appealing revived mid-century modern furniture draws inspiration from her hometown of Margate, a resort town on the southeastern coast of England. From her studio space located inside a former pie factory, Murphy reassembles and re-veneers dressing tables, foot stools, side tables and wall pieces, adorning them with silkscreened imagery that pays tribute to British seaside town iconography—theme parks, mid-century cinema and Formica-clad cafes. For the upholstery on the cushions in her collection, she uses hand-dyed silk appropriated from old wedding dresses. To see more images of her bespoke pieces, make sure to check out our slideshow.
In this quick video, Murphy explains how she gives new life to old things: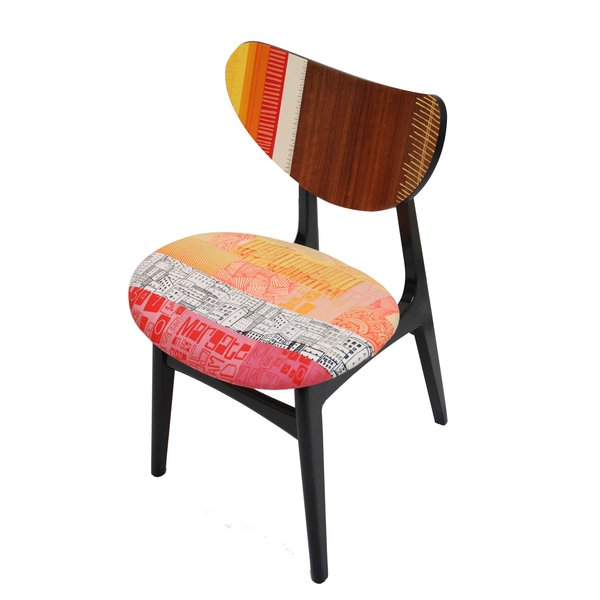 Charlotte West
@charlotte_west
Charlotte West is a design writer who recently returned to the United States after six years abroad in Stockholm, Sweden. She writes for a number of publications in the US, UK, Australia, Canada and Sweden. Her work has appeared in Icon, Step, Varoom, Budget Travel and Men's Journal. She is also an editor at large for Elemente magazine in Canada. Charlotte lives in Seattle with two Norwegian forest cats.
Comments
Everybody loves feedback. Be the first to add a comment.
The author will be notified whenever new comments are added.