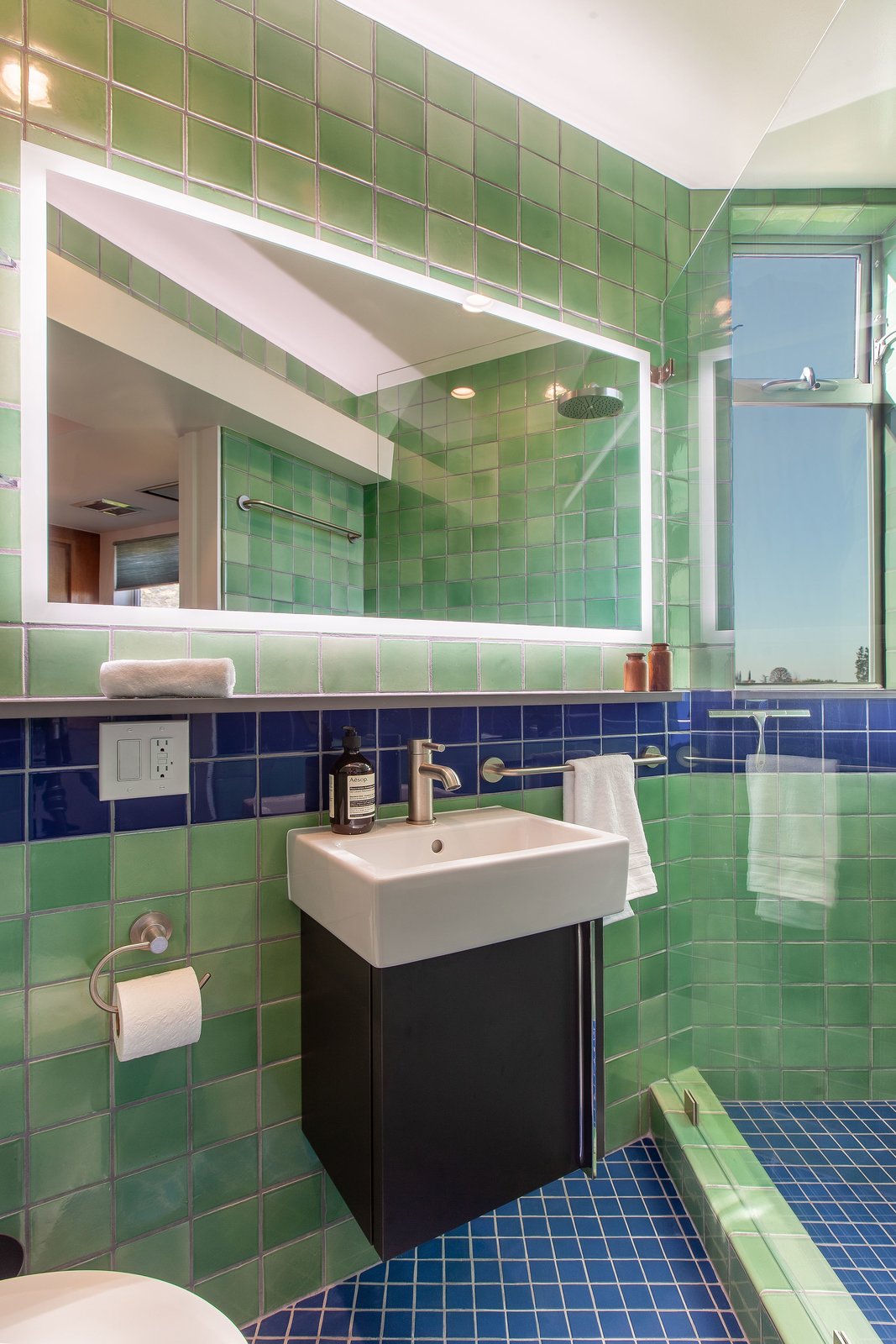 View Photos
Budget Breakdown: A 1920s Guest House Bathroom Gets a Bold Revamp For $34,800
In a 1925 home designed by modernist architect Rudolph Schindler, a tiny bathroom gets a big and bold renovation.
In 1925, Austrian-American modernist architect Rudolph Schindler designed the Levin House in the Los Feliz neighborhood of Los Angeles. Located just across the street from Richard Neutra's Lovell House, the home and its former servants' quarters (today used as a guest house) display Schindler's characteristic use of multiple complex planes, striking colors, and warm, textured materials. Stephanos Polyzoides restored the home in 1984, and Taryn Bone of Bone Collective Studio recently renovated its guest bathroom.
$1,300
Demolition
$3,000
Framing Insulation Hot Mop
$4,200
Electrical Work
$4,800
Plumbing Work
$1,500
Windows & Installation
$1,500
Drywall & Paint
$5,200
Tile
$6,500
Tile Installation
$4,100
Bathroom Fixtures
$1,200
Glass & Corian Shelves
$1,500
Shower Door


Grand Total: $34,800
Newsletter
Join the Renovations Newsletter
Get carefully curated content filled with inspiring homes from around the world, innovative new products, and the best in modern design
At just 27 square feet with a floor covered in shag carpeting, the bathroom was small and outdated. Bone approached the challenge with proportion and color while sticking to a $34,800 budget. Inspired by Schindler's ideas about planes, she used a combination of tiles to create a datum line throughout the space, and she opened up the shower area with a glass partition instead of a bath tub and shower curtain.
Bone paired handmade glazed green tile from Classic Tile and Stone in Santa Monica with blue American Olean tiles to create a datum line that includes a shower niche and a shelf. The texture of the tiles allows them to reflect light, and their handmade individuality brings a sense of craft to the space. The floor tiles are set in a different scale, further emphasizing the distinct planes in the bathroom.
Due to its small size, the bathroom needed a scaled-back sink and vanity from a European manufacturer. Bone offset this tradeoff with a large mirror with integrated LED lighting from IB Mirrors. The oversized mirror makes the space feel large and bright, despite the strong tones of the tile.
Shop the Look