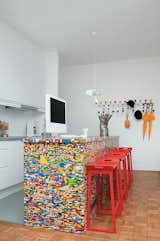 Lego Island
Step back, Jacobsen, Utzon, Kjaerholm, Wegner, and all you other great Danes. When it comes to Danish design domination, the unrivaled champ is undoubtedly the almighty plastic brick—Lego.
Billund, Denmark, could easily be considered the prefab capital of the world: Each year, its factories pump out more than 19 billion modules, which are sent around the world and pieced together by more than 400 million people.
Join Dwell+ to Continue
Subscribe to Dwell+ to get everything you already love about Dwell, plus exclusive home tours, video features, how-to guides, access to the Dwell archive, and more. You can cancel at any time.