View Photos
This Delightful Abode Is a Modern Take on "Grandma's House"
Oozing with bright, cheerful vibes, this revamped apartment captures the nostalgia of hanging out at your cool grandmother's house.
Named Le Temps Retrouvé, which translates to "time regained" or "the past recaptured," Andrea Marcante and Adelaide Testa of local studio Marcante-Testa have envisioned this lovely home to be "a repository of the most intimate facets of people and their memory."
Located in the center of Milan, Italy, the 1,300-square-feet apartment has been lightly renovated on a tight schedule to improve spatial perception, as well as add character.
Get the Renovations Newsletter
Get carefully curated content filled with inspiring homes from around the world, innovative new products, and the best in modern design.
The airy abode features three bedrooms, two bathrooms, and gorgeous French windows that look out to trees in the internal courtyards.

Marcante-Testa has integrated materials like wicker headboards, linen-upholstered seats, straw chairs, accessorized dividers, colorful wallpaper with botanical prints, and splashes of candy-toned greens and pinks to create a modern rendition of "grandma's house."

Shop the Look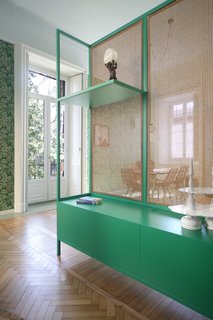 The interior perspectives change and vary depending on the chromatic contrasts on the walls. Sunlight pours in through the windows, imbuing the vibrant walls with a somewhat surreal glow.
In the dining area, the architects have also incorporated a pale-green resin to partially cover the wooden floor and create a "carpet" around the table and chairs.

Using the visual relationship with the greenery outdoors as a guide, Marcante-Testa has created a family home with plenty of personality, where humor, lightness, and a delightful sense of nostalgia bring family members closer together.