Landscape Design for All Climates
Seven landscape architects across the United States explain how they mastermind inspired designs showcasing the best of their regions.
Newsletter
Join the Daily Dose Mailing List
Get carefully curated content filled with inspiring homes from around the world, innovative new products, and the best in modern design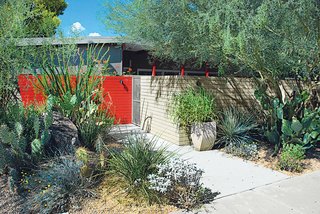 Phoenix-based landscape architect Steve Martino has unlocked the secret to successful gardening in dry desert environs: "The backbone of my career has been celebrating the desert rather than making apologies for it," he says. His drought-tolerant designs relate to the southwestern climate and feature native plants—like the whale's tongue agave, compass barrel cactus, and ocotillo in front of a Scottsdale midcentury house and the red yucca, brittlebush, and prickly pear at a Palm Springs, California, home. "Native plants let your garden tap into the food chain—it becomes a habitat while connecting you to the history of a place."
On a two-and-a-half acre landscape in Geyserville, California, Andrea Cochran found that compatibility was key. "Although not all of the plants are native to California, they are native to the Mediterranean and arid regions with similar climates," she says. Lomandra— an Australian herb—flanks a Cor-Ten steel staircase and a walkway lined with Yosemite tan pebbles and concrete. To contrast the billowy tufts, Cochran inserted blue-toned agave. "Drought-tolerant and hardy enough to handle the intensive sun exposure of this location, both of these plants are regionally appropriate," says Cochran. "California is in the midst of a drought; we need to consider water-conserving plants."
A respected wine-growing region, the Willamette Valley is known for its mild and wet weather. For a house overlooking a steep ravine in Portland, Oregon, landscape architects Melinda Graham and Jonathan Beaver of 2.ink Studio sourced hyperlocal plants from the Valley. Bracken, sword, and deer ferns border the concrete-and-stone retaining walls and the walkway lined with Preto Carvaõ Basalt and brushed stainless steel; Oregon wood sorrel offers ground cover. "The lushness of our native landscape is really the most captivating aspect of our region," Beaver says. "Because we get so much rain, that can become an integral dimension of our designs." 
Knitting the designed spaces into the greater wilderness beyond was paramount for the ten-acre landscape Douglas Hoerr devised in northern Michigan. "The idea is once you're there, you can't tell what we did," he says. Instead of building formal gardens right to the property line, Hoerr added a meadow planted with mature trees and indigenous grasses to buffer the yard. Naturalistic plantings ebb and flow around the 110-foot-long saltwater lap pool. Ample amounts of Russian sage add visual interest, and manicured bluegrass offers recreation space. "I always like to say, strike half of your original plant list out and double up on the rest. It keeps you from getting too busy."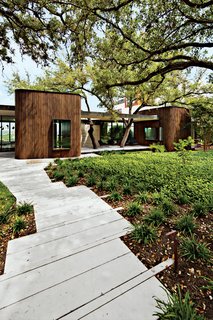 The garden Mark Word Design created for an Austin, Texas, home sited adjacent to a nature reserve puts water conservation first. "It's about usage levels, but it's also about the way we treat storm water and runoff, since it all goes back into our supply at the end of the cycle," designer Sarah Carr says. Word and his team kept the ratio of paved to unpaved surfaces low and chose plants that help reduce erosion, require little irrigation, and allow storm water to percolate. Mulch and living ground covers—like Big Blue liriope, marsilea, and Palisades zoysia turf—keep moisture within the soil and lowers the soil's temperature, protecting the live oak trees' roots.
To recreate the original ecosystems on a plot of land in Northeast Harbor, Maine, that required extensive site rehabilitation, landscape architect Lauren Stimson and her team exam- ined early photographs and paintings depicting scenes more varied than the existing evergreen forest. They designed granite stairs leading into a seaside area featuring huckleberry, sweet fern, bayberry, and sheep laurel, as well as white spruce trees. Seeking to "clearly define the moments of interaction between the man-made and the natural," Stimson embedded granite stepstones, salvaged cedar slabs, and native ground cover within the existing forest plant community.