Fed up with men's fashion, Rachel Wythe-Moran and Simon Watkins of East London's Labour and Wait cooked up a plan to align their creative instincts and passion for practical design.
When fashion design lost its luster and took the form of fleeting, regurgitative styles and overconsumption, British menswear veterans Rachel Wythe-Moran and Simon Watkins traded trends for timelessness by opening Labour and Wait. In their East London shop, the business partners offer goods for the home, kitchen, and garden, each designed to last a lifetime. "We sell everyday classics," Watkins says, "products that almost don't look as though they've been designed at all but have just evolved into the most practical form they could take." Now, ten years since they sowed the first seed for their store, Wythe-Moran and Watkins have accumulated a substantial stock of wares that will never go out of fashion.
Newsletter
Join the Daily Dose Mailing List
Get carefully curated content filled with inspiring homes from around the world, innovative new products, and the best in modern design
What are your criteria for selecting an item to sell?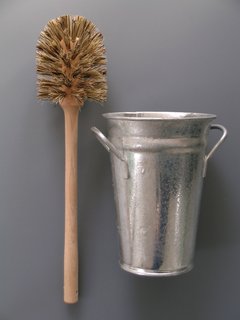 Simon Watkins: We both have to like it; that's number one.
Rachel Wythe-Moran: And it has to have a function; we don't sell anything that's just for decoration.
What's your most recent purchase?
RWM: A brown bread bin made especially for us by our enamel manufacturer in Austria.
What are you currently longing for?
SW: We're always being asked for wooden ironing boards, but we just can't find anyone who makes them for a reasonable price.
What are your favorite items to sell?
SW: The aluminum dustpans. They look great, work really well, and are substantial. We had a customer buy one and then come back needing a new one, because he had had work done and the builder loved it so much he took it!
RWM: I spent hours trying to find a nice wooden toilet brush and a container to put it in. We finally found a set, and it sells incredibly well. Customers also used to inquire about our enamel pendant lamps so we developed them into a product.
Has the store influenced your personal tastes?
SW: The store has always been within us. Lots of things we sell are things we've had ourselves for years but couldn't replace and now are trying to find the people who make them.
Why is East London a good place for a design store?RWM: We wanted to be somewhere near a weekend market. Now, the area is becoming much more popular. There are a lot of buildings going up and the train is being extended here. In some ways we're sad because we were off the beaten track and people had to make a journey to get here, but from a commercial angle, it's good.Who are your neighbors?SW: The shop next door is called Mar Mar Co. and specializes in Scandinavian-inspired design. Nearby are a jewelry designer, T-shirt shop, and vintage-clothing store.What's next for Labour and Wait?SW: Hopefully a bigger shop—–we're bursting at the seams.RWM: And we'd still like to add a bookshop, tea shop, and haberdashery and laundry supply area.